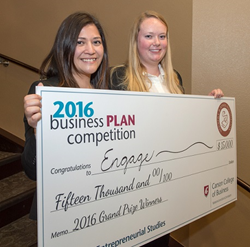 It is a great time to be a student entrepreneur and innovator. Our young adults are changing the world.
Pullman, Wash. (PRWEB) April 23, 2016
Twenty-four teams of college entrepreneurs shared their innovations over the weekend in the 14th annual Business Plan Competition hosted by the Carson College of Business at Washington State University. Five of the state's best high school teams competed in a separate track on Friday.
The top five college teams were awarded prize money, with Engage winning first place and $15,000. The top four high school teams received prize money as well, with BPR Homeowner Services from Mead High School in Spokane, WA winning first place and $5,000.
The teams' innovative business ideas included a safety mechanism to prevent infection in reusable medical vials, rural communication networks to ensure safe transport to maternal health clinics in the developing world, unique ways to advertise to college students and systems to ensure transparency in college sports recruiting.
"This year's groups of entrepreneurs, and their ideas, were the best I've seen yet," said Andy Barrett, founding partner of Toolbox and a competition judge. "It is a great time to be a student entrepreneur and innovator. Our young adults are changing the world."
Engage develops medical technologies for use in developing countries to prevent sickness and death that result from reuse of needles in medication and vaccine administration. Their prototype, SafeShot, is a lid that attaches to a multi-use medicine injection vials that sterilizes the needle each time it enters the vial. SafeShot's sterilizing liquid stops the spread of common contaminates such as Hepatitis B, Hepatitis C and HIV.
WSU competitors were joined by teams from the international partner institutions; Nelson Mandela African Institute of Science and Technology in Arusha Tanzania, Cèsar Ritz Colleges in Brig Switzerland and Southwestern University of Finance and Economics in Chengdu, China. The best six teams advanced to Saturday's finals. Winners were announced at an awards luncheon.
The competition weekend included a gala dinner Friday evening with a keynote address from Leen Kawas, chief executive officer of M3Biotech, a company focusing on research and innovation for treating Alzheimer's disease.
"During Dr. Kawas' keynote speech, she mentioned that we need more strong women in engineering and entrepreneurship. We agree," said Katherine Brandenstein, Co-Founder of Engage and winner of the 2016 Business Plan Competition. "Winning this competition, and our advancement to next week's Investment Round of the UW Business Plan Competition give us the opportunity to showcase how our innovation will impact the world. We hope to encourage more young women to pursue STEM and entrepreneurship-related fields."
Academic and industry professionals judged teams on presentation, development of a solution for a customer problem, value proposition, competitive advantages, market and sales strategy, management, financials and investment analysis. The teams were also evaluated on the merit of their ideas and business plans.
In addition to sponsoring the grand prizes, the Herbert B. Jones Foundation also sponsors merit awards worth $2,500 each for best written plan, best presentation, best technology venture and best social impact business. In addition to the $60,000 in prize money, several teams had the opportunity to receive in-kind legal consultations from Lee & Hayes, a law firm in Spokane, Wash.
"I am so proud of the work I see from students across campus, the state and the world as they ready their ideas for presentation," said Marie Mayes, director of the WSU Center for Entrepreneurial Studies. "Not only does the competition prepare the students to be the next generation of great entrepreneurs, but the practical application and hands-on learning purposefully built into the competition prepare them to be the next generation of great business and community leaders as well."
The complete list of winners is:
College:
1. Engage
2. Protium Innovations
3. VB Cardio
4. Maggie Cares
5. Fire and Ice Swords LLC
6. Split Tech Innovations
High School:
1. BPR Homeowner Services
2. Gamr
3. Duck Soup It
4. GiGo
5. Smart Alarm
Merit Prizes:

Best Written Plan: Protium Innovations
Best Presentation: Protium Innovations
Best Technology Venture: nomAD
Best Social Impact Business: Engage
Media Contacts:
Meagan Garrett, M. Garrett Consulting, 509-475-0028, meagan(at)mgarrettconsulting(dot)com
Marie Mayes, WSU Carson College of Business, 509-335-5628, mmayes(at)wsu(dot)edu
Sue McMurray, WSU Carson College of Business communications, 509-335-7578, sue(dot)mcmurray(at)wsu(dot)edu