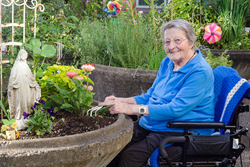 "Brookdale is leading the way in 'Rewiring Aging,' and RFT is the quintessential partner in helping them do that with our innovative wireless safety and security solutions." --Steve Varga, RF Technologies Chief Technology Officer and Senior Vice President
Brookfield, Wis. (PRWEB) April 25, 2016
RF Technologies, Inc., a leading provider of safety and security solutions for senior living and healthcare, has been selected by Brookdale Senior Living as a preferred technology partner as part of a multi-year agreement. Andrew Smith, Brookdale's Director of Strategy and Innovation, said, "With safety tech rapidly evolving, we are moving to enhance our residents' experience by standardizing operations in this arena and emphasizing security-related innovation. This program is part of Brookdale's 'Rewiring Aging' initiative, a broad effort to examine how technology can enrich all areas of seniors' lives." RF Technologies and Brookdale have already worked together for nearly two decades to provide 20 million hours of security to Brookdale residents across the country.
Innovating safety and security in senior living– together
With 28 years of experience and numerous product firsts in senior living, RF Technologies (RFT) remains future-focused through ongoing technology advancements. Glenn Jonas, Founder and Chief Executive Officer, states, "At RF Technologies the most valuable thing we earn is trust. We are immensely pleased in having again earned Brookdale's confidence resulting in the award of this contract and the continued opportunity to enhance senior living together." Steve Varga, RF Technologies' Chief Technology Officer and Senior Vice President, adds, "Brookdale is leading the way in 'Rewiring Aging,' and RFT is the quintessential partner in helping them do that with our innovative wireless safety and security solutions."
Accelerating best practices with wireless technology
Wireless technologies can deliver improved safety and mobility, enriching the lives of senior living residents. Today, with RFT's advanced technology, Brookdale residents can have peace of mind knowing their call will be received and they can be located anywhere in the community. As RF Technologies further enhances the range of its locating technology, senior living residents can be located quickly and accurately at extended ranges. RFT's Code Alert® software platform has evolved to include smartphone and web accessibility, along with the seamless management of nurse call and wander management systems. These advancements, combined with leading-edge data analytics, further enhance staff efficiency and responsiveness.
About RF Technologies
RF Technologies protects our most vulnerable family members at over 10,000 senior living and healthcare facilities nationwide. Life safety solutions such as Code Alert® Wander Management, Quick Response® Wireless Nurse Call and Safe Place® Infant Security blend high-technology with home-like aesthetics to improve resident safety and satisfaction, while innovations, such as RFT Cares™ smartphone application, improve caregiver coordination and efficiency. Backed by over 28 years of experience in senior living, RF Technologies' solutions are UL-certified to meet today's life safety standards, and can be integrated with other systems for an improved total cost of ownership. For more information visit http://www.rft.com.
About Brookdale
Brookdale Senior Living Inc. is the leading operator of senior living communities throughout the United States. The Company is committed to providing senior living solutions primarily within properties that are designed, purpose-built and operated to provide high quality service, care and living accommodations for residents. Currently Brookdale operates independent living, assisted living, and dementia-care communities and continuing care retirement centers, with approximately 1,123 communities in 47 states and the ability to serve over 108,000 residents. Through its ancillary services program, the Company also offers a range of outpatient therapy, home health, personalized living and hospice services. http://www.brookdale.com