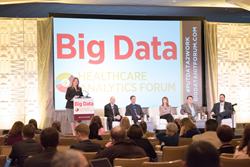 New York, NY (PRWEB) April 22, 2016
HIMSS announced today that leading experts from Mayo Clinic and the University of California San Francisco will headline the Fifth Annual Big Data & Healthcare Analytics Forum, the nation's leading event for healthcare organizations tackling analytics, which kicks off at the Grand Hyatt San Francisco, June 14-15, 2016.
Sponsored by Attunity, Caradigm, DataWatch, Jvion, and PHEMI, the two-day Big Data & Healthcare Analytics Forum features 32 experts from leading institutions, including Advocate Health Care, Aetna, Geisinger Health System, Penn Medicine, and others. Attendees can choose from 19 thought leadership sessions, and seven unique networking opportunities – all designed to provide analytics best practices, actionable strategies, and business solutions they can implement at their own organization.
Last year, U.S. hospitals collectively lost $420 billion to Medicare readmissions penalties, with 506 hospitals losing at least 1 percent of their Medicare payments. Now more than ever, a healthcare organization's survivability and sustained success depends on how well they leverage analytics to enable smarter business and clinical decisions. The HIMSS Big Data & Healthcare Analytics Forum will help attendees establish a solid foundation of analytics best practices and tackle those challenges head on.
"The Big Data revolution has finally come to healthcare, and organizations need to quickly adapt to the new landscape, but many are unsure where to begin," said John Whelan, Executive Vice President, HIMSS Media. "Our forum is the only event of its kind that provides a map for navigating this analytics terrain. We've brought in the top innovators in healthcare, who will share business-critical insights around developing and fine-tuning a solid analytics strategy that works for their organization."
The HIMSS Big Data & Healthcare Analytics Forum in San Francisco brings together big data experts from leading organizations who will share tips and techniques on building an analytics team; data warehousing; driving adoption; population health; predictive analytics; preventing readmissions; registries; technology and process improvement; and more.
Keynotes:

Mayo Clinic: Jeanne Huddleston, MD, Associate Professor of Medicine
University of California, San Francisco: Atul Butte, Director for Computational Health Sciences
Featured Speakers:

Advocate Health Care: Tina Esposito, VP, Center for Health Information Services
Geisinger Health System: Nicholas Marko, Chief Data Officer
Penn Medicine: Michael Draugelis, Chief Data Scientist
Sutter Health: Elizabeth Mahler, VP, Patient Health Management
Texas Children's Hospital: Charles Macias, Director, Evidence-Based Outcomes Center
University of Texas at Austin: Sriram Vishwanath, Professor, Engineering
Washington University of Medicine: Nephi Walton, MD, Biomedical Informaticist
Visit our event website for more information, to register now, or see a complete speaker lineup.
About HIMSS Media
HIMSS Media is the fastest growing B2B media group focused exclusively on healthcare and technology markets. Through its suite of market-leading brands, such as Healthcare IT News, Healthcare Finance and MobiHealthNews, HIMSS Media delivers news, analysis and must-have information to an audience of senior healthcare and technology influencers. HIMSS Media is also the leading producer of important live events, such as MobiHealthNews 2016, Privacy & Security Forum, Pop Health Forum, Revenue Cycle Solutions Summit, and Big Data and Healthcare Analytics Forum.
About HIMSS
HIMSS is a global, cause-based, not-for-profit organization focused on better health through information technology. HIMSS leads efforts to optimize health engagements and care outcomes using information technology. HIMSS is a cause-based, global enterprise producing health IT thought leadership, education, events, market research and media services around the world. Founded in 1961, HIMSS encompasses more than 61,000 individuals, of which more than two-thirds work in healthcare provider, governmental and not-for profit organizations across the globe, plus over 640 corporations and 400 not-for-profit partner organizations that share this cause. HIMSS, headquartered in Chicago, serves the global health IT community with additional offices in the U.S., Europe and Asia.