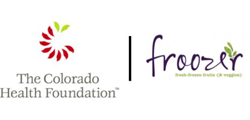 "The Colorado Health Foundation and Froozer® share common goals of positively impacting the health of Colorado residents" -- Froozer® CEO and Chairman of the Board and Co-Founder of Hague Enterprises, Des Hague.
Denver, CO (PRWEB) June 01, 2016
Des Hague, Froozer® CEO and Chairman of the Board, and Froozer® President, Rich Naha, announced today a significant financial investment of The Colorado Health Foundation in Froozer®.
"We are thrilled that the Colorado Health Foundation has chosen to invest in Froozer®," said Hague. "The Foundation and Froozer® share common goals of positively impacting the health of Colorado residents," concluded Hague.
The Colorado Health Foundation, one of the largest health-focused foundations in the country with assets of $2.4 billion, is a nonprofit organization that works to make Colorado the healthiest state in the nation by ensuring that all Colorado kids are fit and healthy and that all Coloradans achieve stable, affordable and adequate health coverage to improve their health with support from a network of primary health care and community services. To advance their mission, the Foundation engages the community through grant-making, public policy and advocacy, private sector engagement, strategic communications, evaluation for learning and assessment, and by operating primary care residency training programs. For more information, please visit http://www.ColoradoHealth.org.
"We believe every child in Colorado should have the opportunity to eat healthy with an adequate amount of fruits and vegetables in their diet. Froozer® products get fruits and veggies to kids in a creative way and will be available in under-served markets," said Amy Latham, Vice President of Philanthropy, the Colorado Health Foundation.
"We look forward to a long, mutually-beneficial relationship with the Colorado Health Foundation," stated Naha. "We think Froozer® is uniquely positioned to provide convenient, whole-food nutrition to the masses."
About Froozer® - "simple ingredients. real nutrition."
Froozer® products, the official healthy frozen fruit and veggie snack of US Speedskating, represent the pure goodness of freshly harvested fruits & veggies picked at the peak of their ripeness, flash-frozen whole and blended for optimal taste, nutrition and digestion. Natural fruits and veggies in all their glory, nothing added or subtracted, not even a drop of water. Available in three delicious flavors - STRAWBANANA BLISS, TROPICAL SUNSET and BLUE ALOHA - in 6-pack boxes. Look for Froozer® in your local grocery store freezer at select fine retail locations in the Denver Area including WholeFoods and Alfalfa's, and various select retailers in Arizona, California, Connecticut, Massachusetts (including Fenway Park), Oregon, Texas, Washington State, Rhode Island and Alaska, or place your order for a 48-count box at http://www.Froozer.com or http://www.amazon.com to have your Froozer® delivered directly to your home or office.
For more information: http://froozer.com/
Contact: Rich Naha, President, Froozer®
Phone:303-246-1957, Rnaha(at)froozer(dot)com
Connect with Froozer® on Facebook or Twitter