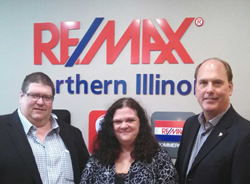 CHICAGO (PRWEB) April 23, 2016
RE/MAX Deal Makers, the newest RE/MAX office in Kane County, has opened its doors at 113 W. Oak Knoll Dr. in Hampshire, Ill. Bruce Burklow, Jr., an experienced local developer and home builder, is at the helm as broker/owner, assisted by his wife, Robbi.
Burklow, 44, moved into the brokerage end of the real estate industry in 2012 after nearly two decades spent working in the development and home building business established by his father, Bruce Burklow, Sr. Those operations included G & B Homes Inc., which has built many homes in the Hampshire area.
"Brokerage has turned out to be a great fit for me, and I'm excited about the prospect of bringing a RE/MAX office to the community where we live," said Burklow, who was affiliated with the RE/MAX office in Marengo, Ill., before deciding to purchase his own RE/MAX franchise.
"The timing is excellent in regards to opening this office," he noted. "The economy has strengthened, and here in Hampshire we're starting to see new residential and commercial development move forward after a substantial period during which the market was essentially stagnant. With that as background, I'm convinced our community can benefit from the expertise and tools that RE/MAX has to offer."
RE/MAX Deal Makers occupies a 2,300 square-foot office in a 30,000- square-foot, three-building commercial complex that was developed by the Burklow family between 2003 and 2008. The new office already has a staff of four agents.
Robbi Burklow will head the office's administrative operations, having had similar responsibilities at G & B Homes.
One advantage the Burklows will have from the start is the strong position RE/MAX already enjoys in the Hampshire/Pingree Grove market area. In 2015, RE/MAX brokers led the local market, accounting for 21.7 percent of total sales according to the Midwest Real Estate Data MLS.
"Being aligned with the dominant brand name in our local real estate market is a huge plus for our office and our agents," said Burklow. "But the great thing is that the benefits of being part of RE/MAX extend much further, whether through the worldwide RE/MAX network or through the outstanding tools RE/MAX offers, like our mobile app, that makes the property search process easier for our agents and especially for their clients."
As a long-time Hampshire resident, Burklow brings a wealth of local knowledge to his new venture. Not only are he and his wife familiar with the local real estate market, both have been active members of the community in which they have raised their three children. The Burklows were especially involved with the local school system, District 300, with Robbi Burklow serving as president of the local parent-teacher organization. They also participate in the Little Angels Pledge Run, an annual 80 mile motorcycle ride benefiting the Little Angels Center for Exceptional Care in Elgin, Ill.
RE/MAX agents consistently rank among the most productive in the industry. In 2015, RE/MAX Northern Illinois agents averaged 18 transaction sides. RE/MAX has been the leader in the northern Illinois real estate market since 1989 and is continually growing. The RE/MAX Northern Illinois network, with headquarters in Elgin, Ill., consists of more than 2,250 sales associates and 106 independently owned and operated RE/MAX offices that provide a full range of residential and commercial brokerage services. Its mobile real estate app, available for download at http://www.illinoisproperty.com, provides comprehensive information about residential and commercial property for sale in the region. The northern Illinois network is part of RE/MAX, a global real estate organization with 104,000+ sales associates in 90+ nations.
####
EDITOR'S NOTE: RE/MAX® is a registered trademark. Please spell in all caps. Thank you. This release is posted at blog.illinoisproperty.com.