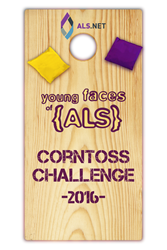 Cambridge, MA (PRWEB) April 22, 2016
ALS.net announced today, through its Young Faces of ALS campaign, that the sixth annual "National Corntoss Challenge" events will be held this summer in seven cities throughout the country, including in Atlanta, Boston, New York, San Francisco, Seattle, Twin Cities and Washington DC. The National Corntoss Challenge events benefit ALS.net and the research it funds directly at the ALS Therapy Development Institute in Cambridge, MA.
Each Corntoss Challenge location will feature a tournament of the popular game, corntoss, also known as cornhole, as well as entertainment, food, beverages and prizes. Each event is organized by members of the Young Faces of ALS campaign, a group that includes young people with ALS, their family members and friends who want to raise awareness of ALS and help fund research for a cure.
"When I was diagnosed at 21, I never thought I'd make it to 30," says recently-turned 30-year-old Corey Reich, a longtime member of Young Faces of ALS. "While I have been living with ALS for the past nine years, others have not been so lucky. This is why my family and I are so dedicated to advocating for ALS research. We love hosting the Young Faces of ALS Corntoss Challenge in San Francisco because we get to combine our desire to support ALS research with a fundraising event that includes corntoss, beer and other activities that drive people to come out and support our cause."
In the past five years, the National Corntoss Challenge has raised over $900,000, with this year's fundraising goal set for $300,000. This year's national sponsors also include Cytokinetics, Inc., North Point Trust Company LLC and Taylor Farms.
All funds benefit ALS.net, and are directed to research efforts at the ALS Therapy Development Institute, whose scientists actively discover and develop effective treatments to end ALS.
The first Corntoss Challenge event will be held on Saturday, April 23 in Washington, DC. To participate in that event, register for another Corntoss Challenge, donate or learn more about the Young Faces of ALS campaign, visit http://www.yfals.com.
About ALS.net
ALS.net was born from the realization that something was needed to bring people together with a common goal to fund the research necessary to slow and stop amyotrophic lateral sclerosis (ALS). It is a global network of people with ALS, their care providers, family and friends, fundraising events, awareness campaigns and foundations committed to funding innovative, patient-centered research leading to the development of effective treatments and eventually a cure for ALS. ALS.net directly supports the ALS Therapy Development Institute, the world's first and largest nonprofit biotech focused 100 percent on ALS research. Founded in 1999, the Institute brings together 30 industry-trained scientists with experience discovering drugs and bringing them to market. Led by people living with the disease and their families, they understand the urgent need to slow and stop this disease. For more information, visit http://www.als.net.