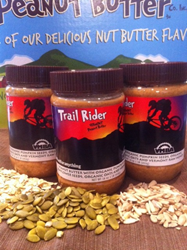 "The Red Sox and Vermont Peanut Butter have some great synergies in that we have a very loyal fan base and we're all about family."
Morrisville, VT (PRWEB) April 22, 2016
If the Boston Red Sox appeared to have a bit more energy on the field this morning, it may have been the "Green Mountain Goodness" they spread on their toast for breakfast. Or maybe it was "Mad River Mojo," or "Stowe Cinnamon Raisin," or another of the many tasty and unique varieties from the new official peanut butter of the Red Sox, the Vermont Peanut Butter Company.
The wholesome Vermont peanut butter producer from the equally wholesome town of Morrisville, Vermont has just been named the official peanut butter of the championship team. The small state of Vermont that borders Massachusetts to the north harbors a loyal fan base for the team. It's also increasingly known for its artisanal home grown food and drink producers. Vermont has become a hot bed for "farm-to-table" eateries, organic produce, globally acclaimed artisanal cheeses, and some of the most celebrated micro-breweries in the hugely popular small-batch beer movement. So it's a safe bet that the Vermont Peanut Butter Company (VTPB) would produce a game-changing take on America's favorite spread. And the Boston Red Sox know a game changer when they see one.
VTPB was started a handful of years ago by Chris Kaiser of Morrisville, Vermont when he decided to make his own healthy snacks for his daughter and himself. In the face of a market saturated by peanut butters high in sugar and palm oil, as well as overpriced and unsatisfying energy bars, he developed a delicious assortment of peanut butter concoctions that grew into what is now the Vermont Peanut Butter Company. All their products are made from natural, locally-sourced ingredients, leaving out the sugar, trans fat, gluten and preservatives. Some of their offerings feature dark or white chocolate, Vermont maple syrup, Vermont honey, Flax, cranberries, pumpkin seeds and other delicious variations on the traditional half of the PB&J.
When the Red Sox approached VTPB about making it their official brand of the healthy snack food, it brought things full-circle for Kaiser who attended Coastal Carolina University on a full Division I baseball scholarship. He then went on to train with the Baltimore Orioles, before moving to Vermont to focus on raising his daughter and following his passion for backcountry skiing and mountain biking.
"It's always been a dream of mine to see the company become affiliated with the sport I love so much. The Red Sox and Vermont Peanut Butter have some great synergies in that we have a very loyal fan base and we're all about family. And people always remember their first experience with both the Sox and VTPB – we're pretty much unforgettable," said Chris Kaiser, Founder, Vermont Peanut Butter, Inc.
The Red Sox seem pretty happy about the union themselves, looking forward to readily available, healthy and delicious snacks throughout New England.
"Partnering with quality New England companies is important to us and we are pleased to have Vermont Peanut Butter Company as part of the Red Sox family," said Red Sox Executive Vice President, Partnerships, Troup Parkinson.
So as this year's baseball season gets under way, look for the new jars of Vermont Peanut Butter sporting the Red Sox logo next to whatever delicious flavor it happens to be. And if the team looks especially energized during a game, look for the players munching on spoonfuls of "Good Karma" in the dugout.
For more information, visit http://www.vtpeanutbutter.com, or connect with the company on facebook and twitter.