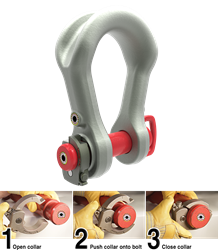 Shackle Bolt Securement Made Easy
Tulsa, OK (PRWEB) April 25, 2016
If you've been in the lifting, rigging, or material handling industries for a while, you know that it can be easy to get locked into a routine. Same types of equipment, same methods—the same tried and true approach applied for every lift. However, even the most familiar routines sometimes need to be shaken up to add a dose of vitality, innovation, and efficiency—to make a good routine even better…which is exactly what the Crosby Easy-Loc V2™ shackle bolt securement system is designed to accomplish.
The Crosby Easy-Loc V2™ is the latest Crosby innovation designed to completely change (and improve) the approach to shackle bolt securement for critical lifts. Here's how the Crosby Easy-Loc V2™ gets it done:

Robust 316 stainless steel design resists corrosion
No cotter pins required
No tools required
On average, 40% lighter than traditional securement methods
Reduces install and release time by up to 90%
To find out more about the new Crosby Easy-Loc V2™ contact The Crosby Group at http://www.thecrosbygroup.com.