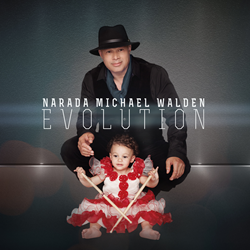 San Francisco, CA (PRWEB) April 22, 2016
GRAMMY® Award-winning producer, drummer, singer, and songwriter Narada Michael Walden's single "Evolution" will ground you back to Earth on Earth Day, April 22. With its dance beat, sweet vocals, and soulful lyrics, this title track from the recently released full-length album is a fitting anthem to help ignite passion and inspire change. Narada Michael Walden is celebrating his birthday the following day, April 23.
Walden's prodigious energies have consistently driven him to keep on the cutting edge of the music industry. He is always writing, performing, and recording new music and his message of peace and positivity has garnered him great success over his many years in the music business. Here are highlights from Walden's early 2016:

Walden played drums for long-time friend Aretha Franklin while she sang "Think," "Chain of Fools," and a fifteen-minute version of their #1 Hit "Freeway of Love," during a private concert at the Four Seasons in New York. The two are in talks for more upcoming shows.
Carlos Santana and the original members of Santana, Gregg Rolie, Neal Schon, Michael Carabello, and Michael Shrieve, worked at Walden's Bay Area-based Tarpan Studios on their new best-selling album Santana IV. The album was mixed by Tarpan Studio's Head Engineer, Jim Reitzel, who was trained by Walden. Santana is currently working with Reitzel on a new project involving the Isley Brothers at Tarpan.
On May 15, Walden will be one of the Celebrity Judges at the fourth annual Bay Area Teen Idol, judging alongside American Idol's Musical Director, Michael Orland, and UDK Casting Director, Alex Newman, (Glee, Friends, American Horror Story).
Upcoming performances for Walden include a Gospel show at St. Hilary Catholic Church in Tiburon, CA honoring Mother Mary on Forgiveness Day, May 13; a show on May 21 at the famed Sweetwater Music Hall in Mill Valley, CA; and a return to the Iridium in New York City for three nights, May 26-28.
May Tour Dates:
13: St. Hilary Catholic Church; Tiburon, CA
21: Sweetwater Music Hall; Mill Valley, CA
26-28: The Iridium; New York, NY
ABOUT NARADA MICHAEL WALDEN:
As a multi-platinum, three–time GRAMMY® winner and EMMY winner with 57 #1 Hits, Narada Michael Walden has produced hits for artists as diverse as Aretha Franklin (including the platinum "Freeway of Love."), Steve Winwood, Ray Charles, Wynonna Judd, Whitney Houston, George Michael, Mariah Carey, Barbara Streisand, Lionel Ritchie, Lisa Fischer, Stevie Wonder, Tom Jones, Jeff Beck and The Temptations, the EMMY and multi-GRAMMY winner (Producer, Album and Song of The Year) has been at the helm of hit music that spans decades. His music flows freely from pop, rock and soul, to the rarified realms of jazz, fusion and world music. Walden was an integral part of introducing Whitney Houston (producing six of her seven #1 hits to break Michael Jackson's record) and mega-star Mariah Carey to millions of fans worldwide, producing and writing the breakthrough hits that first brought these divas to the spotlight. Billboard Magazine honored him as one of the Top Ten Producers of all time.
NaradaMichaelWalden.com
TarpanStudios.com
# # #