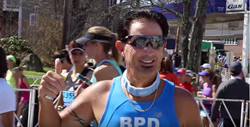 Many times back surgery can put devastating limits on athletes, but the Freedom Disc has done what it was designed to do in mimicking a natural human disc and restoring full function to Mr. Ramsey's spine.
Boston, MA (PRWEB) April 27, 2016
AxioMed, LLC announced today that clinical trial patient Robert Ramsey completed the Boston Marathon on Monday, April 18, 2016, after receiving the AxioMed Freedom Lumbar total disc replacement. Mr. Ramsey, who is a retired Deputy Chief of Police for the Martinsville Police Department in Virginia, has run the Boston marathon every year from 2004-2010.
In 2010, Ramsey's degenerative lumbar disc disease became so bad he could no longer run. His specialist in Charlotte, North Carolina, suggested Ramsey have either a fusion or an artificial disc replacement.
"I had done the research on fusions and knew I didn't want one of those if I wanted to keep running," said Ramsey, so he enrolled in a blind clinical trial for the AxioMed Freedom Lumbar Disc. Patients in the study would receive either a first-generation total disc replacement or the next-generation AxioMed Freedom Disc, but went into surgery not knowing ahead of time which disc would be implanted.
"I was hoping for the AxioMed Disc," says Ramsey. "When I woke up from surgery, the first thing I asked was, 'Which one did I get?' My wife said, 'The AxioMed Disc.' And I said, 'Hallelujah!'"
Ramsey began running and training for marathons after his surgery and rehabilitation. He returned to the Boston Marathon in 2013, but was unable to finish because of the terrorist attacks. His wife, who was in the stands at the finish lines when the two bombs detonated, was unharmed. This year marks the first time she and Ramsey have returned to the marathon since the attacks; it also marks Ramsey's 20th marathon.
Ramsey maintains a rigorous physical fitness regime during marathon training, including weightlifting and forty minutes of crunches and sit-ups–something that the unique flexibility and stiffness of the AxioMed Disc accommodates.
Jake Lubinski, President of AxioMed, who was in Boston to meet with Ramsey the day of the marathon, was thrilled to witness an athlete with the Freedom Disc competing in one of the world's most prestigious marathons. "It's incredible that Mr. Ramsey has achieved this full restoration of a competitive athletic lifestyle," Lubinski said. "Many times back surgery can put devastating limits on athletes, but the Freedom Disc has done what it was designed to do in mimicking a natural human disc and restoring full function to Mr. Ramsey's spine."
So far, clinical studies of the AxioMed Disc have borne positive results. AxioMed is hoping to complete its lumbar disc clinical trials and launch the technology in the U.S. market by next year.
Harvard-trained orthopedic spine surgeon and CEO of AxioMed, Professor Kingsley R. Chin, M.D, commented on the philosophy behind the uniqueness of the AxioMed total disc replacement. "It makes most sense for us to focus on restoring normal spine kinematics by replacing the diseased spine segment in patients we believe have spine pain. There is not absolute certainty about what generates back pain in patients, so how do you advocate for one treatment over another without proof? Today, we seek to restore normalcy where there is loss of normalcy now that we have the technology to mimic the normal disc. Tomorrow, we seek to replace the facets."
About AxioMed
Founded in 2001, AxioMed has exhaustively proven the efficacy of its Freedom® Cervical and Lumbar Discs through research, development and testing of the lumbar disc in the USA and both the lumbar and cervical discs in Europe. In 2014, KICVentures recognized the disc's enormous potential and acquired the company into their healthcare portfolio. AxioMed owns an exclusive license for spine application of the unique and proprietary viscoelastic material used to manufacture the Freedom Disc technology.
About KICVentures
KICVentures manages several portfolio companies (including AxioMed, LLC), investing in disruptive technology in the health-tech sector. KICVentures acquires, creates, and nurtures companies and their technologies to their fullest potential.