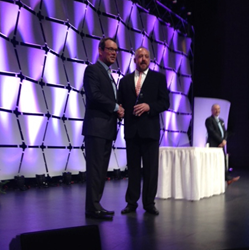 "I'm delighted that our colleagues and peers believe in what Benchmark is doing, combining research and urgent care, and excited to open the doors of our first three urgent and family care clinics." Mark Lacy, CEO of Benchmark Research
Austin, Texas (PRWEB) April 25, 2016
Benchmark Research is proud to announce that CEO Mark Lacy has been recognized by the Association of Clinical Research Professionals (ACRP) with the Innovation in Clinical Research Award for bringing urgent and family care to the clinical research space. The award was presented during the 2016 ACRP meeting in Atlanta. Additionally, Daphne Dureau, Sub-Investigator and Associate Site Director at Benchmark Research New Orleans has been awarded "People's Choice" for her submission to the Academy of Clinical Research Professionals Academy Certification Essay Contest.
This year's ACRP meeting was held jointly with the 2016 US Clinical Researcher of the Year (US CROY) awards where Mr. Lacy served as both chair and master of ceremonies.
"This is an exciting time with ACRP and US CROY partnering to hold their meeting and awards in tandem. Moreover, we're thrilled with Daphne's award winning essay and delighted to be recognized with the Innovation in Clinical Research Award, an honor that reflects positively on the whole Benchmark Research organization. I'm delighted that our colleagues and peers believe in what Benchmark is doing, combining research and urgent care, and excited to open the doors of our first three urgent and family care clinics. I'm thankful to have been given the opportunity to serve as chair and master of ceremonies for clinical researcher of the year and so incredibly proud of Daphne for her brilliant essay."
Benchmark Research is a geographically diverse, fully integrated network of multi-therapeutic research centers across three states. In the coming months, they will be adding three Urgent & Family Care Centers to their portfolio with several more to follow. Benchmark continues to both expand and innovate in their quest to maintain their standing as the leading site network in the clinical research industry.