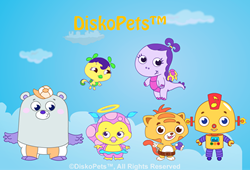 Diskopets is a funny, animated, educational, multiplayer online game. Like TV cartoons, it has comical and whimsical characters as well as a vast, ever changing world to explore
(PRWEB) April 27, 2016
DiskoPets.com is pleased to announce that is launching a kickstarter campaign for it's flagship product. The platform blends Saturday morning cartoons with artificial intelligence to create an interactive online world that is filled with fun for kids, yet completely customizable by parents and teachers. With characters created in the spirit of cherished Saturday morning cartoon adventures, kids explore and discover a world of whimsical wonder that entertains them while parents and teachers can provide customized learning activities and track individual progress.
One of the most unique and innovative features of the DiskoPets world is the ability for teachers and parents to customize elements of the game environment for their children and students. For the first time ever, it is possible to manipulate the content of an online world so that it ties into the actual needs of a child in their real life.
Parents can change activities to help their children with subjects that are giving them trouble. Teachers can provide material to help their entire class as they move through their curriculum. The game itself can be used as a legitimate teaching tool within schools.
Each of the DiskoPets has their own unique personality and, through artificial intelligence techniques, will learn about and adapt to children playing in their world. They even respond to the children exploring their world with real and changing emotions.
DiskoPets takes educational games to a level that we've never seen before. It doesn't just teach kids about their ABC's and 123's. It is not a static game that serves its purpose and gets left behind. The game - and the characters within it - actually adapt to the individual child and his/her specific needs as he/she grows and learns. Essentially, the game grows with the child as he or she develops.
DiskoPets will set a new standard for both educational gaming and online environments designed for children. The game will undoubtedly fill in a gap that has existed between children's games and real education for far too long.
Please back and support DiskoPets campaign at http://www.diskopets.com/kickstarter
For more information on DiskoPets visit
Web: http://www.diskopets.com
Facebook: https://www.facebook.com/disko.pets
Twitter: https://twitter.com/diskopets