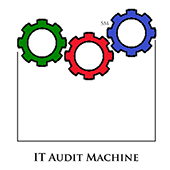 "To deliver on the promise of compliance and risk management, Continuum GRC has invested heavily into their people -- who carry certifications including CISSP, QSA, CRISC, CISM, CIPP, eJD, MBA, C|CISO, CCE, ISSA Hall of Fame, CPA and more" adds Morgan.
Phoenix, AZ (PRWEB) April 22, 2016
Continuum GRC earns coveted governance, risk and compliance (GRC) industry recognition for the IT Audit Machine (ITAM).
Quickly emerging as the best assessment and collection tool for governance, risk management and compliance (GRC) in the international business community, Continuum GRC ups the ante with one simple tool to Attain, Maintain and Explain your GRC challenges away with the IT Audit Machine (ITAM). Bringing enterprise capabilities coupled with powerful analytics, intelligent logic and automated document creation are forces to be reckoned with.
We have eliminated those traditional old school ways where audits, assessments and compliance work was overshadowed by endless spreadsheets, insecure emails and file shares, bloated costs and audit anarchy. The ITAM puts the power of technology, collaboration and simplicity to work for the entire enterprise no matter the size or jurisdiction.
"What sets Continuum GRC apart from the rest of the field are its people and their deep subject matter expertise in IT governance, risk, and compliance" says Steve Morgan, founder and CEO at Cybersecurity Ventures and editor-in-chief of the Cybersecurity 500 list of the world's hottest and most innovative cybersecurity companies.
Cyber-crime is escalating globally and hitting the small business sector harder than any segment. Continuum GRC has innovated the best solution for making GRC assessments and collections Simply Smarter, Exponentially Faster and Extremely Economical for the international business community.
Michael Peters, CEO of Continuum GRC said "My team of superheros make me so proud! We are so honored to receive this industry recognition validating what we believe really sets us apart from other cyber security, policy development, risk management and compliance firms."
Continuum GRC's primary purpose is to help organizations attain, maintain, and demonstrate compliance and information security excellence. We specialize in governance, risk management, compliance and cyber law solutions and are determined to change the international industry forever.
Learn more about ITAM and why Continuum GRC helps you work smarter not harder!