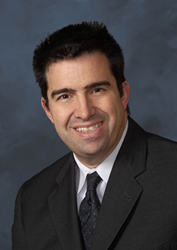 LAS VEGAS, Nev. (PRWEB) April 22, 2016
Anthony Cabot, a partner in the Gaming practice group at Lewis Roca Rothgerber Christie LLP, is the only U.S.-based attorney to achieve the "Star Individual" rating for Gaming and Gambling in the Chambers Global 2016 edition.
One of only two attorneys worldwide to earn the "Star Individual" rating, this is the eighth consecutive year Cabot earned the exclusive recognition.
Chambers Global is an annual publication that ranks the world's leading law firms with international practices and lawyers who work across continents to serve client needs. Rankings are based on in-depth interviews with peers and clients to assess the reputations and experience of business lawyers around the globe.
"Anthony Cabot of Lewis Roca Rothgerber Christie LLP attracts praise from both clients and peers. Sources highlight his academic prowess and regulatory expertise. Anthony is based in Nevada and handles cross-border transactions involving Asian jurisdictions, such as Macau," said Chambers editors.
Covering the entire gaming spectrum, Cabot's domestic and international clients include casino owners, game manufacturers, developers, Internet gambling sites, and companies that run contests and sweepstakes. He provides legal counseling related to all types of games, encompassing online games, casual games and complex skill-based games.
A prolific writer, Cabot is co-author of "The Law of Gambling and Regulated Gaming: Cases and Materials," recognized as one of the most comprehensive resources available on gaming law.
He also co-edited "Regulating Land-Based Casinos: Policies, Procedures, and Economics," a guide to international gaming regulation that explores policy questions about the role of government in gaming regulation, obligations and opportunities for casinos and public support for gambling and gaming tax revenue.
About Lewis Roca Rothgerber Christie LLP
Lewis Roca Rothgerber Christie LLP is built on the strengths of legacy firms Lewis Roca Rothgerber and Christie, Parker & Hale, providing clients across a wide range of industries with representation in litigation, intellectual property, business transactions, gaming, government relations and other practice areas. Lewis Roca Rothgerber Christie offices are located in Albuquerque, Colorado Springs, Denver, Las Vegas, Los Angeles, Orange County, Phoenix, Reno, Silicon Valley and Tucson.