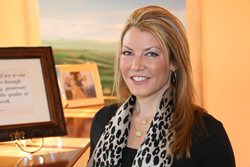 (PRWEB) April 22, 2016
The staff at Plastic Surgery Associates and Allegra MedSpa are happy to announce the addition of an experienced, expert injector to the staff, Corinn Singletary, PA-C. As a national trainer and international speaker for both basic and advanced injectable techniques, Ms. Singletary will be a valuable asset to the Napa Valley practice.
While starting out in orthopedics, Ms. Singletary's work quickly transitioned to the field of cosmetic lasers. Once trained with aesthetic injectables, she knew she had found her passion. Ms. Singletary has been a full time injector for over seven years. In her career, she has provided more than 10,000 Botox treatments, seeing between 20 and 60 individuals on a weekly basis.
At Plastic Surgery Associates, Ms. Singletary will be focusing on all aspects of injectables, including rejuvenation of the tear trough and volume loss under the eye, as well as providing Cellfina treatments. Her extensive knowledge of anatomy and product range makes her adept at providing correction of asymmetry and improving overfilled, uneven or undesired outcomes of previous treatments.
While Botox may be one of her most commonly requested treatment, Ms. Singletary's favorite procedure is cheek enhancement. However, she enjoys all aspects of her work and is enthusiastic about coming to Plastic Surgery Associates. Ms. Singletary explains, "I am very excited to join a team of extremely talented and passionate surgeons, as well as a skilled, accommodating and friendly staff. I look forward to meeting all new patients and helping them achieve their cosmetic goals."
Francisco Canales, MD and Heather Furnas, MD, founders of Plastic Surgery Associates and Allegro MedSpa, are equally thrilled to have Ms. Singletary join their practice. Dr. Furnas goes on to say, "Physician Assistant. Expert Injector. National Trainer. We are beyond excited to welcome the newest member of our team, Corinn Singletary."
Ms. Singletary holds her Bachelor of Arts in Exercise and Sport Science from the University of North Carolina at Chapel Hill, as well as her Master of Clinical Medical Science, Physician Assistant Studies from Barry University in Miami. Ms. Singletary is a wine enthusiast and foodie, eager to be in the middle of Napa Valley's amazing restaurants and wineries. She is also looking forward to the area's beautiful weather.
Anyone considering an aesthetic procedure should contact Plastic Surgery Associates at 707.537.2111. Consultations with Dr. Canales and Dr. Furnas are always complimentary. Injectables, as well as a variety of noninvasive treatments, are available at the adjoining Allegro MedSpa. For more information on Botox Cosmetic and other injectables, contact the MedSpa at 707.537.2123. If you are in the Santa Rosa area, please stop by and welcome Ms. Corinn Singletary to the office.
Contact:
Plastic Surgery Associates
4625 Quigg Drive
Santa Rosa, California 95409
707.537.2111
http://www.enhanceyourimage.com