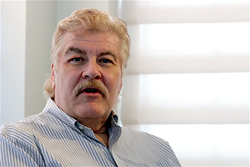 More Canadians than ever before are contacting our office for hip and knee replacement.
New York, NY (PRWEB) April 23, 2016
Dr. Nakul Karkare, a New York City orthopaedic surgeon and joint replacement specialist says he is now receiving an increasing number of inquires from Canadians who are frustrated by the long wait times for scheduling needed medical care in their healthcare system. "I just performed minimally invasive hip replacement surgery on "Manny", a retired engineer from Canada suffering from osteoarthritis who was told he will have to wait a year and a half for his surgery."
"My quality of life was reduced to almost nothing. I couldn't perform any of the daily functions that a normal person could possibly do, and everything was very restrictive," says Manny. "I finally decided to seek an orthopaedic surgeon in the U.S. After looking at a number of different surgeons in the New York City area, Dr. Karkare was short listed, and I sent him an e-mail. Within 45 minutes of sending that e-mail, he called me and asked me what my symptoms were and indicated exactly what I would have to send him so that he could make a long-distance prognosis. Then he would let me know if he would be willing to take me on as a patient."
"The reason I came to the United States to get the surgery done in the first place was because of the wait time in Canada would be a year and a half," says Manny. "Where here, it took less than a month from the time I contacted Dr. Karkare's office and the surgery was completed." Manny describes his experience in this video: http://www.newyorkhipknee.com/2016/04/18/hip-patient-from-canada/
"Since their healthcare won't cover any part of the surgery, Canadian patients don't need referrals from their doctors," says Dr. Karkare. "While Canadians get most of their medical care for free through the government's health care system the waits are notoriously long and getting longer because of a doctor shortage and overcrowded clinics and emergency rooms."
A study found that more than 52,000 Canadians travelled abroad for health care in 2014, according to the National Post, a Canadian publication. That figure represents a 25% increase over 2013, according to the study conducted by the Fraser Institute, a Canadian independent research and education organization.
According to the National Post article, "British Columbia had the highest proportion of its patients travel abroad to receive non-emergency medical treatment in 2014 (1.6 per cent), while Alberta had the second largest proportion (1.5 per cent) and Ontario had the third (1.3 per cent)."
"Manny returned home a few days after his hip replacement surgery, ready to enjoy an active life again" says Dr. Karkare.
For more information on hip and knee replacement in New York City call (212) 951-0182 and visit http://www.newyorkhipknee.com