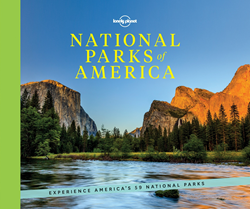 Lonely Planet's National Parks of America will inspire travelers of all ages.
Oakland, CA (PRWEB) April 22, 2016
Lonely Planet's National Parks of America: Experience America's 59 National Parks ($29.99 / April 19, 2016) is a breathtaking, illustrated tour through each and every park in the United States and its territories, from Acadia to Zion.
Both inspirational and informative, Lonely Planet's National Parks of America is a much-needed overview of all of the US national parks, written by Lonely Planet's team of adventure travel experts. The illustrated guide introduces readers to each park with background, indispensable information and practical advice for exploring them, including where to stay and when, and what activities to do, wildlife to watch and trails to hike.
Features on each park include:
Recommended itineraries
Stunning panoramic photography
Hiking and wildlife watching guides with illustrations
How to get to each park and the best time of year to visit
Facts in numbers: highest elevation, annual rainfall, population and more
Spotlighting both iconic and lesser-known but no less spectacular parks, Lonely Planet's National Parks of America will inspire travelers of all ages to discover why these incredible natural treasures are worth exploring.
Also out this week is USA's National Parks ($24.99 / April 19, 2016), a brand new, full-color first edition guide providing essential advice and trustworthy travel information for exploring all 59 American national parks and other areas managed and protected within the national park system.
Written and researched by Lonely Planet's North American travel writers, USA's National Parks includes photos, planning tools, maps, driving tours, itineraries and highlights of the best things to do within each national park.
Lonely Planet also published five freshly updated, next edition Lonely Planet National Parks guidebooks (April 2016 / $19.99) to 11 of the most popular national parks in North America. Each guide is now in full color with a new design, featuring maps and images alongside comprehensive coverage and practical information for exploring each park. With a new focus on clothing and equipment for hiking and camping, plus best drives, cycling tours and more, these guides are even more user-friendly and inspirational than ever before.
Banff, Jasper & Glacier (4th edition) ISBN: 978-1742206189
Grand Canyon (4th edition) ISBN: 978-1742207254
National Parks of America (1st edition) ISBN: 978-1760340643
USA's National Parks (1st edition) ISBN: 978-1742206295
Yellowstone & Grand Teton (4th edition) ISBN: 978-1742207438
Yosemite, Sequoia & Kings Canyon (4th edition) ISBN: 978-1742207445
Zion & Bryce Canyon (3rd edition) ISBN: 978-1742202013
About Lonely Planet:
Lonely Planet is the world's leading travel media company, inspiring and informing travelers since 1973. Over the past four decades, Lonely Planet has cultivated a dedicated traveler community and printed more than 130 million books in 13 different languages to almost every destination on the planet. The brand offers compelling travel content across various channels, including an award-winning website, guide- and trade books, magazines, mobile apps, video and more. Visit us at lonelyplanet.com, and join us on Facebook (facebook.com/lonelyplanet), Twitter (@lonelyplanet and #lp) and Instagram (instagram.com/lonelyplanet).