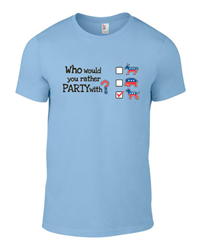 (PRWEB) April 27, 2016
Well Trained Owner is launching a new T-shirt line that celebrates (and jokes about) the relationship people have with their dogs.
In light of the current presidential race, Well Trained Owner is first releasing their "Who Would You Rather Party With?" shirt. Images of an elephant, a donkey, and a dog are pictured with checkboxes next to each, inviting people to "vote." Despite the craziness of political campaigns, the shirt hints at the unwavering support, loyalty, and trust a dog shows to its owners.
Yet, even if not dog lovers, the shirt encourages people to embrace their freedom of choice, to vote for what they stand. Though many may be hesitant to publicize their support for particular candidates, WTO is pushing people to do the patriotic, responsible thing: Vote in 2016!
Visit WellTrainedOwner.com for additional information.