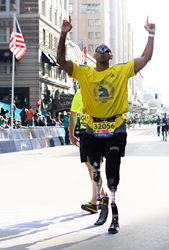 Hey man, keep fighting! This is the time when life wants to know if you're really the fighter
(PRWEB) April 22, 2016
Competing as part of the Achilles International team –a nonprofit that supports wounded veterans running road races– Master Sergeant Cedric King ran the Boston Marathon on Monday for the third time.
King explained that this marathon was much harder than his previous attempts. Running on prosthetics is typically tortuous – this time, due to an existing sore on his left knee he had to deal with pain right from the starting line. "By a third of the race, my body was in agony," he said.
On July 25, 2012, King stepped on an improvised explosive device in Afghanistan. As a result, both of his legs were amputated. He admits he had very low moments at Walter Reed National Military Medical Center in Maryland, when he wished he hadn't survived; "It was like a bad dream" King recalled. However, driven by his perseverance, developed during his time in the 82nd Airborne Division, he heard his heart saying, "Hey man, keep fighting. This is the time when life wants to know if you're really the fighter. And if you can just get out of this hospital bed, you can also probably be pretty inspiring to other people."
Just 21 months after losing his legs, King completed the Boston Marathon, running on prosthetic blades. Since then, he has gone on to compete in a number of physically daunting events, wowing and inspiring everyone with his physical endurance and mental strength. In the moving Concert of Valor video, King said, "I want to send a message to those guys that meant to hurt me; instead of hurting me, you made me better. Instead of taking my legs away, you gave me so much more to live for."
When asked about his resilience and how he controls pain, King simply answered: "In some ways, the pain works its way over your attitude. I just don't allow pain to poison my attitude. I crossed this finish line and said to myself 'Wow, forget about pain and what happened to my legs, this is me again!'"
"This injury kicked my butt," he said. "I didn't want the injury to have the last say. You have to get to a point where being tired or in pain isn't the scariest thing. Whatever happens to my body is not as important as what happens inside my body. Most people will never get there because they are afraid of the red line. But if you can fix your mind on persisting despite the pain and fatigue, you can do anything."
In 2014, Cedric King met Howard Schultz at Walter Reed hospital. Schultz, the Starbucks CEO, was there to meet veterans for a book project. "I was glad to have met Mr. Schultz that day and had a great discussion with him. But I'd never have thought I'd have a chance to meet with him again," King remembers. But about one year later, King was contacted by the Schultz's family foundation, which needed motivational speakers for job fairs and events the foundation was organizing. King accepted but was not aware that he was about to start an exciting public speaker career.
Over the past few years, Cedric King has been hired for inspirational speaking engagements by leading companies, colleges and non-profit organizations in the United States, in which he motivates people –from students to top executives – to see the range of possibilities in their own lives. The story he tells is not a sad one, but rather an uplifting one that ignites the hearts of his audiences and inspires them to push through the hard times in life. "A situation only gets better when you make up your mind to make it better," he said. "When you focus on the positive, the positive in your life magnifies," he tells crowds.
His next goal is to write a book –not only to tell his story or list his athletic achievements, but above all, to give back what he has been receiving from others who helped him overcome adversity and also share his uncommon positivity.
"I haven't found a writer yet, or know how to launch a book, but I know I'll have this book written and published no matter what. I plan to raise the needed investment using crowd-funding. I hope people will be excited in partnering with me on this project," King said optimistically.
On his new website, he has posted one of his favorite quotes he has written: "You can take my hands, you can take my eyes, you can take my hearing, but what you cannot take away from me is that spirit inside of me that wants to win."
Well said Master Sergeant King.