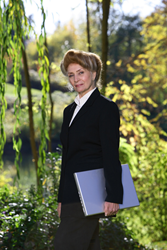 Grants Pass, OR (PRWEB) April 22, 2016
The United States Department of Agriculture, in their official annual food chart (called "My Plate"), lists five basic food groups as essential to good daily nutrition. They are vegetables, fruits, grains, protein (meat) and dairy. Conspicuously absent is water, a fact that greatly concerns fresh water advocate and radio host Sharon Kleyne. In an era when it is more important than ever for everyone to drink an adequate amount of water each day, Kleyne is hard pressed to discover a reasonable explanation for this omission.
Sharon Kleyne will discuss water, nutrition and the USDA "My Plate" program on her Sharon Kleyne Hour™ Power of Water® radio show of April 25, 2016. The globally syndicated, education oriented show is heard weekly on VoiceAmerica (Health and Wellness, and Variety Channels) and Apple iTunes. For podcasts of past shows, go to http://www.voiceamerica.com/show/2207/the-sharon-kleyne-hour
"Sharon Kleyne Hour® Power of Water®" is sponsored by Bio-Logic Aqua® Research Water Life Science®, founded by Kleyne and specializing in fresh water, the atmosphere, body surface evaporation, dehydration and education. The Research Center's signature consumer product is Nature's Tears® EyeMist® for dry eye.
According to "Webster's New Collegiate Dictionary," says Kleyne, a "nutrient" is defined as a "food component that an organism requires in order to survive and grow." By that definition, water is definitely an essential nutrient and many references back this up. According to the Australian Ministry of Health (2014), "water is defined as an essential nutrient because it is required in amounts that exceed the body's ability to produce it." Professor Kravitz at the University of New Mexico (2009) describes water as "nature's most important nutrient."
According to the book, "Nutrition Concepts and Controversies," (2007), "Organic chemical compounds such as dietary minerals, water and oxygen may also be considered nutrients."
The only opposing view Kleyne could find was a reply to the question, "Is water a nutrient?" on Anwers.com. One response claimed it was not because water is merely a "transporter of nutrients." This reply is erroneous, Kleyne believes, because water is an essential component of virtually every recognized nutrient and is critical to health and survival in its own right.
The official US government position on nutrition, Kleyne explains, is reflected in the annual "My Plate" chart put out by the United States Department of Agriculture's Center for Nutrition Policy and Promotion. Until 2011, this chart was called the "Food Pyramid." The only accommodation made by My Plate in recent years to changing dietary habits in the United States is that the "meat" category is now called "protein" and includes beans and nuts.
The chart shows a dinner plate divided into "vegetables," "fruit," "protein" and "grain" with a little glass off to the side labeled "dairy." How difficult would it be, Kleyne wonders, to have a second little glass off to the side labeled "water"?
Kleyne does not know for sure why a nutrient as vital to all life as water has been omitted from the chart decade after decade. One possible explanation comes to mind, says Kleyne, although she has no idea if this is the correct explanation. The purpose of the USDA My Plate program, Kleyne explains, is not only to educate the public about good nutrition but also to promote American agricultural products. Every item on My Plate is produced by American farmers. Water is not. In fact, for many farmers, water is a scarce commodity and they are often in direct competition with urban households for priority access to the water supply.
With 50 percent of the US population drinking too little water each day and showing some symptoms of dehydration; and in the face of climate change, increasing drought and a diminishing national water supply, Kleyne wonders why the US government does not do much more to promote healthy water drinking. According to Kleyne, omitting water from My Plate is symptomatic of the fact that the country also lacks a comprehensive national water policy.
©2016 Bio-Logic Aqua® Research Water Life Science®. All rights reserved
Sources:
Kravitz, L, "Water: the science of nature's most important nutrient," (University of New Mexico) IDEA Fitness Journal, 2009
http://www.unm.edu/~lkravitz/Article%20folder/WaterUNM.html
"Nutrient reference values: Water," Australian Ministry of Health, 9/4/14
http://www.nrv.gov.au/nutrients/water
Sizer, F, "Nutrition Concepts and Controversies," Cenage Learning, 2007