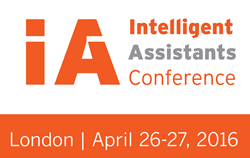 Opus Research has put together a powerful conference of industry thought leaders, and we're pleased to be included as a leading provider of intelligent assistant technology.
London, UK (PRWEB) April 26, 2016
Creative Virtual, a world leader in self-service engagement solutions, is an event sponsor for Opus Research's Intelligent Assistants Conference (IAC) London 2016 being held on 26-27 April. Peter Behrend, Creative Virtual's CTO, and Chris Ezekiel, Founder & CEO of Creative Virtual, will both be featured as panellist speakers at the conference. IAC London 2016 will focus on the theme of 'helping humans harness the power of intelligent assistants' through a series of keynote addresses, expert panel discussions, case studies and networking opportunities.
Drawing from his many years of experience working with enterprises around the world, Chris will speak in the 'Executive Summit – Focus on the Enterprise' panel session on Day 1 of the conference. He will share his views on the evolution of virtual assistant technology and how enterprises are using personalisation and knowledge management capabilities to achieve greater success from these solutions.
On Day 2 of IAC London 2016, Peter will be featured as a panel speaker during the 'Striking the "People Versus Machines" Balance' session. Having played an instrumental role in the development of Creative Virtual's V-Person™ and V-Portal™ technology, Peter continues to drive ongoing development work and brings to the discussion a wealth of insight into the combination of humans and machines.
"As a pioneer in the intelligent virtual assistant space, Creative Virtual has been at the forefront of innovation and advancement in the industry. We're excited to be bringing our expertise and global experience to an event focused exclusively on this technology," said Chris. "Opus Research has put together a powerful conference of industry thought leaders, and we're pleased to be included as a leading provider of intelligent assistant technology."
The Intelligent Assistants Conference will be held at the Grosvenor House in London and is co-located with Intelligent Authentication Conference 2016. More information and the full agenda can be found on the Opus Research event page.
For more information on Creative Virtual's V-Person (natural language virtual assistant) and V-Portal (knowledge management, workflow management and business intelligence reporting) technology, visit the Creative Virtual website.
ABOUT CREATIVE VIRTUAL
Creative Virtual is a world leader in self-service solutions that enable anywhere, anytime customer engagement between brands and their customers. Leading global organisations including Lloyds Banking Group, Time Warner Cable, HSBC, Verizon, Chase, InterContinental Hotels Group, Autodesk and Tesco rely on our award-winning V-Person technology to improve their customer support experience, increase sales, reduce costs and build brand loyalty.
Backed by an experienced, expert team as well as an extensive partner network, our innovative virtual agent, knowledge management and business intelligence platform empowers organisations to provide customers with consistent, accurate, personalised and seamless omnichannel engagement across web, mobile, social, SMS, contact centre, service desk and IVR channels. Delivering significant contact deflection and reductions in average call handling times, as well as increased first contact resolution, together with powerful customer analytics and outcome tracking, the V-Person Smart Help platform is the most compelling self-service product in the world today.
Creative Virtual is headquartered in the United Kingdom with operations in the United States, the Netherlands, Australia, New Zealand, India, Singapore and Hong Kong. For more information about Creative Virtual and V-Person technology, please visit our website at http://www.creativevirtual.com.