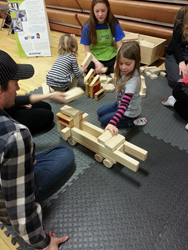 The Twiga Foundation, in partnership with Parents as Teachers, is committed to doubling the reach of BLOCK Fest in the next year through Parents as Teachers affiliates.
Washington, D.C. (PRWEB) April 22, 2016
BLOCK Fest®, a research-based initiative designed to equip children ages 8 months through 8 years with STEM skills through interactive block play with their parents, is doubling its winning formula to help grow a strong future workforce spurred, in part, by a commitment made to early Science, Technology, Engineering, Math (STEM) education by the White House.
Developed and piloted by the University of Idaho Parents as Teachers and now licensed and distributed by the Twiga Foundation, the initiative was highlighted by Patricia Kempthorne, Founder and President of Twiga Foundation -- and the mother behind the idea -- during a White House-sponsored Early Learning STEM Symposium held yesterday.
"Not only does interactive block play allow children to explore the physical world and support language, social and emotional development, it builds reasoning and problem solving skills and helps them process information," said Mrs. Kempthorne. "A key added value is that block play increases parent knowledge of the role of early development in STEM education."
The Twiga Foundation, in partnership with Parents as Teachers, is committed to doubling the reach of BLOCK Fest in the next year through Parents as Teachers affiliates. Parents as Teachers is an evidence-based, home visiting model and parent education and support program that partners with parents to help ensure their children are healthy and ready to succeed in school and life.
"Patricia Kempthorne has championed BLOCK Fest since its inception and is especially well suited to explain how interactive block play works and how parents can replicate the play at home," said Scott Hippert, President and CEO, Parents as Teachers. "We're thrilled to provide resources so parents can learn to foster STEM and bond with their children during the process."
Mrs. Kempthorne has been married for nearly 40 years to Dirk Kempthorne, former United States Senator, Governor of Idaho, and United States Secretary of Interior. She has just been selected as a 2016 National Mother of Achievement by American Mothers, and will be recognized at a national conference in Washington, D.C. on April 26, where the National Mother of the Year will be named. Mrs. Kempthorne also serves as the Vice Chair of the 2015-2016 Parents as Teachers National Center Board of Directors.
Building on the President's early learning agenda, the White House, working with the Departments of Education and Health and Human Services, hopes to advance the focus on STEM experiences in the coming months by identifying research gaps, best practices, and education technologies to support the youngest learners, parents and community leaders with early STEM education.
About Parents as Teachers: Founded in Missouri in 1984, Parents as Teachers serves more than 212,000 children in all 50 United States, more than 115 Tribal organizations, schools and communities, and six other countries. The Parents as Teachers internationally recognized network uses an evidence-based model to deliver parent education primarily through personal visits and group meetings, equipping parents with knowledge and resources to prepare their children, from birth through kindergarten, for a stronger start in life and greater success in school. Parents as Teachers programs operate in various settings, including schools, hospitals, faith-based organizations and housing communities. For more information, visit http://www.ParentsAsTeachers.org.
About Twiga Foundation: Founded by Patricia Kempthorne, Idaho's former First Lady, Twiga Foundation, Inc. is a 501(c)3 organization dedicated to inspiring, promoting and maintaining family-consciousness in the home, the workplace and the community. Twiga Foundation trademarked BLOCK Fest® and now trains and certifies individuals as BLOCK Fest hosts and volunteers to promote the value BLOCK Fest can bring to their communities. Twiga Foundation maintains an ongoing relationship with the developers of BLOCK Fest and together, they are working to expand the reach of this innovative and successful learning experience in STEM education. For more information, visit http://www.twigafoundation.org.