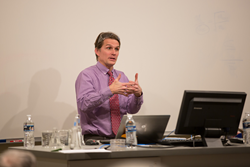 (PRWEB) April 24, 2016
Dr. Tom Kuntzleman, associate professor of chemistry at Spring Arbor University, has been announced as one of three video entry finalists competing in the fifth annual Flame Challenge. In his video entry, Dr. Kuntzleman utilizes a number of devices and experiments to give a dynamic and visually interesting answer to this year's Flame Challenge question: What is sound?
The Flame Challenge is a global contest conducted by the Alan Alda Center for Communicating Science at Stony Brook University in Stony Brook, New York. Since 2012, the Alda Center has used the Flame Challenge as a means of finding the best ways of communicating the wonder of science to 5th and 6th graders. Previous Flame Challenges have asked questions like "what is a flame," and "what is color." Schoolchildren pull double duty in determining the question to ask, and judging filmed, written and graphic entrants posing answers to that question. The winner of each category receives a $1,000 cash prize, a trip to New York City and honors at the 2016 World Science Festival.
Dr. Kuntzleman's submission was chosen as a video entry finalist from among hundreds of other entrants, though his penchant for communicating science to kids is not limited to the Flame Challenge. In addition to teaching undergraduate courses in chemistry at SAU, Dr. Kuntzleman also directs the popular Cougar Science Camp over the summer, a weeklong day camp open to kids who have completed grades K—8th. He also exhibits his passion for science on Facebook and Twitter, where he posts videos of his in-lecture demonstrations and links to do-it-at-home experiments. Dr. Kuntzleman holds a bachelor of science in chemistry education from Bloombsburg University, a master of science in chemistry from the University of North Carolina at Greensboro and a doctorate in Physical Chemistry from the University of Michigan.
The Flame Challenge began in 2012. Imagined by actor Alan Alda as a way to convince the world's best and brightest scientists of the necessity of clear and vivid communication with the public, and with schoolchildren specifically, it has gone on to become a wildly popular mechanism for giving both parties voice in the greater educational discourse.