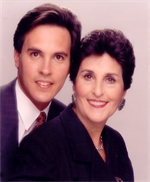 I joined Keller Williams Realty because I saw great opportunity in being a part of this talented network of real estate agents
Weston, FL (PRWEB) April 25, 2016
David & Dorothy Eiglarsh, one of the country's top-producing real estate teams, is merging their independently owned Eiglarsh Realty with the Keller Williams Realty Legacy Market Center.
"We're excited to welcome David and Dorothy Eiglarsh to the Keller Williams family," said Eric Ubiera, Team Leader of Keller Williams Legacy. "At Keller Williams we believe in succeeding through people and having David & Dorothy on our team is a huge win for us."
Although David started part-time in real estate, in 1993 he joined his mother, Dorothy as a full time partner. After many successful years at Coldwell Banker, Dorothy and David joined RE/MAX in 1999 where they enjoyed their continued success before branching out on their own in 2008 when they founded their own brokerage, Eiglarsh Realty in Weston.
The Eiglarsh Real Estate Team sells over $60 million in real estate each year, or about 200 properties per year which represents a home sold every day and a half. Ranking them among the top 1/4 of 1% of real estate agents nationally!
Keller Williams has made an impact on the real estate industry. In 2015 Training Magazine named the company as the No. 1 training organization across all industries in the world.
"I joined Keller Williams Realty because I saw great opportunity in being a part of this talented network of real estate agents," said Eiglarsh. "I noticed many well-respected, top-producing agents were making the move to Keller Williams and that piqued my interest. I wanted to take my business to the next level and knew joining Keller Williams was logical next step."
"We are off to an amazing start this year", says Natascha Tello, Keller Williams Legacy's Operating Partner & Broker. "We are very excited to be the company of choice for top agents and their teams in Weston"
The Keller Williams Legacy Market Center, located at 1625 N. Commerce Pkwy #105, Weston FL 33326 was established in 2002 and relaunched in 2015 under new ownership. It has 195 associates. Keller Williams Legacy is outperforming the local market by 77.3% in Listings Taken Volume and outperforming the market by Listings Sold by 18.7%.
To learn more about Keller Williams Realty, call Eric Ubiera at 954-882.8762 or visit http://www.kwweston.com.
About Keller Williams Realty, Inc.
Austin-Texas based Keller Williams Realty, Inc. is the largest real estate franchise by agent count in the world with 700 offices and 136,000 associates across the Americas, Europe, Africa and Asia. In 2015, Training Magazine named Keller Williams the No. 1 training organization across all industries in the world.
Since 1983, Keller Williams has grown exponentially and continues to cultivate an agent-centric, education-based, technology-driven culture that rewards agents as stakeholders. The company also provides specialized agents in luxury homes, commercial and farm and ranch properties.