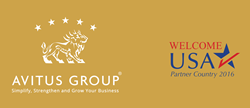 We are certainly honored to have been invited to exhibit, and are excited to help more international businesses set up their U.S. operations.
Denver, Colorado (PRWEB) April 22, 2016
Avitus Group, a worldwide company headquartered in the Denver metro area of Colorado that helps businesses simplify, strengthen and grow, today announced it is part of the largest-ever U.S. delegation to Hannover Messe, the world's foremost trade fair for industrial technology, taking place April 25-29, in Hannover, Germany. For the first time in the Fair's history, the United States will be the Partner Country, a status that provides the more than 400 businesses and organizations in the U.S. delegation an unprecedented opportunity to be prominently featured throughout the event. President Obama will also participate in this year's event, themed "Integrated Industry-Discover Solutions."
Avitus Group will exhibit in the U.S. Partner Country Pavilion at the show.
"In our Hall, President Obama and the Chancellor of Germany will be conducting the Official Ribbon-Cutting Ceremony Monday Morning. Our booth neighbors are the World Trade Center Los Angeles, the State of Connecticut Department of Economic and Community Development and the Kansas Department of Commerce," says Avitus Group Vice President of Business Development Josh Balster. "We are certainly honored to have been invited to exhibit, and are excited to help more international businesses set up their U.S. operations."
Avitus Group's International Business Service helps businesses from all over the globe navigate the necessary, yet often intimidating and burdensome tasks involved with doing business in the United States.
"We are the solution for any business located in any country to come to the United States and know that they do not need to worry about the fine details involved with things like OSHA compliance, U.S. tax law, human resources and payroll. All of these items become Avitus Group's responsibility. We can even help businesses narrow down the geographic location in the United States that makes the most sense. Our services streamline the process of setting up U.S. operations from start to finish, and our international clients are ever-grateful to have Avitus Group as their U.S. experts," says Avitus Group Public Relations Manager Dianne Parker.
"The U.S. business community and the Department of Commerce have a clear message for the world: the United States is open for business. We will demonstrate and deliver on that message at the 2016 Hannover Messe," said U.S. Secretary of Commerce Penny Pritzker. "We are proud to have some of America's most innovative and forward-thinking business services companies joining the U.S. delegation at this year's fair."
"We are excited to be a part of the first-ever USA Partner Country presence at Hannover Messe and look forward to making the most of this opportunity," says Chairman of Avitus Companies Willie Chrans.
Avitus Group representatives Chrans, Balster and U.K.-based Director of International Business Development Dr. Frank Levene are set to attend the week-long show. Avitus Group is participating in a Transatlantic Trade and Investment Partnership presentation hosted by the Federal Ministry for Economic Affairs and Energy in Germany, the Partner Country Reception hosted by the U.S. Department of Commerce and Google, which will be attended by Secretary of Commerce Penny Pritzker, a 'Colorado Night in Hannover' hosted by the German American Chamber of Commerce Colorado Chapter, and a SelectUSA Workforce Development Workshop headlined by U.S. Deputy Assistant Secretary of Labor Eric Seleznow and Ambassador Vinai Thummalapally, Executive Director of SelectUSA.
Hannover Messe typically hosts more than 200,000 attendees from more than 70 countries, including global investors, buyers, distributors, resellers and government officials.