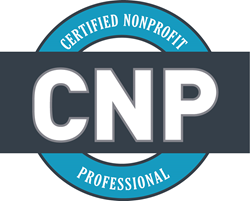 Kansas City, Mo. (PRWEB) April 25, 2016
The Nonprofit Leadership Alliance is now offering its Certified Nonprofit Professional (CNP) credential through a completely online program designed for professionals interested in launching or advancing a nonprofit career.
"The CNP credential is a proven leadership development program that has been offered for nearly 70 years in conjunction with degree or graduate programs," says Susan T. Schmidt, CNP, president of the Nonprofit Leadership Alliance. "With this new platform, we are able to offer the CNP program to those who have professional experience, but would like to broaden their understanding of nonprofit sector organizations to further their careers."
The CNP credential is offered through the Alliance's network of nearly 40 regionally-accredited colleges and universities. The new online program is offered in partnership with Arizona State University, Madison College and the Presidio Institute's online educational platform, Leaderosity.
To earn the CNP credential, students must successfully complete eight online courses (each five weeks in length). The courses are facilitated by content experts who provide immediate feedback on student progress. Students also participate in a virtual networking conference where they attend keynote addresses, interact with nonprofit hiring managers, and participate in "town hall" discussions. During the program, students earn e-Certificates that demonstrate learning and mastery of the CNP's 10 core competencies. These digital badges can be uploaded to LinkedIn and other online platforms.
"This new program structure maintains the same rigor and applied-learning components that are hallmarks of the CNP, and make it highly effective at developing nonprofit leaders," says Schmidt. "In fact, independent research conducted by LinkedIn in 2014 shows that those who earn the CNP credential are seven times more likely to rise to director or higher level."
In order to enroll in the CNP program, participants must have a minimum of three years of full-time professional experience as well as a minimum of a baccalaureate degree. Those who have completed a service year at a nonprofit organization are exempt from the professional experience requirement.
The full credential program, which includes eight courses and the virtual networking conference, costs $2,725. Those employed at organizations that are part of the Alliance nonprofit workforce network receive 20% off tuition and fees. The program is eligible for the Segal AmeriCorps Education Award.
To learn more about earning CNP credential online, visit http://www.nonprofitleadershipalliance.org/online.
About the Nonprofit Leadership Alliance: Since 1948, the Nonprofit Leadership Alliance has worked to strengthen the social sector with a talented, prepared workforce. Its Certified Nonprofit Professional (CNP) credential is the only national nonprofit management certification in the U.S. The Alliance system, which includes more than 50 colleges, universities and national nonprofit partners and 9,000+ CNPs, is the largest network in the country working to build a talent pipeline for the social sector.