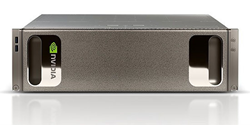 The DGX-1 system enables researchers to train larger, more sophisticated deep neural networks quicker and easier than ever before
Sterling Heights, MI (PRWEB) April 24, 2016
Rave Computer, an Elite Solution Provider in the NVIDIA Partner Network program, today announced that it has been selected to offer the new NVIDIA® DGX-1™ deep learning system, the world's first deep learning supercomputer designed to meet the unlimited computing demands of artificial intelligence.
Rave will support NVIDIA's marketing and sales efforts by qualifying, educating, and managing potential customers' requirements and orders. Rave will also actively be involved in driving market awareness and demand development.
The NVIDIA DGX-1 is a fully integrated system with a suite of deep learning software and development tools for quick, easy deployment. It is built on the new NVIDIA Pascal™ architecture-based Tesla® P100 GPUs, and features NVIDIA NVLink™ high-speed interconnect technology. With up to 170 teraflops of half-precision peak performance, the DGX-1 delivers the equivalent throughput of 250 x86 servers.
"Rave is very excited about our relationship with NVIDIA. We work closely with their engineers and staff to ensure that Rave's team is an expert in the latest GPU computing technologies," said Rick Darter, president and CEO of Rave Computer. "The DGX-1 system brings deep learning and artificial intelligence capabilities to users who have never had access to this level of throughput and computational performance. The potential this system unharnesses is unlimited."
Rave Computer is a computer hardware integrator specializing in high-performance, purpose-built computers, including their recently announced Cipher series, which is the world's-first liquid-cooled workstation equipped with NVIDIA Tesla K80 GPU accelerators. More information about their products and market expertise is available at http://www.rave.com.
"The DGX-1 system enables researchers to train larger, more sophisticated deep neural networks quicker and easier than ever before," said Jim McHugh, vice president and general manager of GRID and DGX-1 at NVIDIA. "Rave's expertise in delivering high-performance computing solutions will accelerate the integration of DGX-1 into customer's data centers, delivering supercomputing power for their most demanding AI applications."
The NVIDIA DGX-1 system is immediately available for order, and will ship to customers with general availability from NVIDIA expected in June.
For more information about Rave Computer or the NVIDIA DGX-1, you can visit their website: http://www.rave.com or http://www.rave.com/dgx-1/