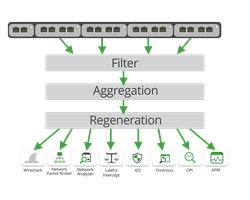 The 1G Modular Packet Broker System is a game changer for the IT Industry.
Buffalo, NY (PRWEB) April 28, 2016
Garland Technology has introduced a 1G Modular Packet Broker System with a versatile 1U and 2U chassis design featuring advanced port-to-port filtering capabilities, including port mapping between in-row TAPs that allows for aggregation, regeneration and filtering data to a single link or regenerate the traffic to up to 4 links in a 1U chassis or up to 12 links in a 2U chassis.
The new port-to-port aggregator and port mapping filter allows for granular selection of network traffic at layers 2, 3, and 4 of the packet. This provides either one or many monitoring tools and analyzers only the traffic they are designed to protect. The multi-tier filter supports MAC, VLAN, IP, DSCP and UDP.
The new 1G chassis system features a scalable design that can accommodate 4 TAPs in a 1U and 12 TAPs in a 2U chassis as well as an optional remote management card with either a GUI or CLI controller. The 1G chassis accommodates any of Garland's modular TAPs, including legacy models and supports breakout/passive, aggregation, filtering, regeneration/SPAN and bypass modes.
"The 1G Modular Packet Broker System is a game changer for the IT industry. We developed this to meet any network scenario and to allow customers the flexibility to change and adapt to future network needs - regardless if they are using the chassis for network monitoring or security tool management," explains Chris Bihary, CEO/Co-Founder of Garland Technology.
The 1G Modular Packet Broker System has gone through proof of concept (POC) with Garland customer's in the financial, entertainment and telecom industries as well as governmental agencies. "The development of the 1G Modular Packet Broker System was customer driven. We were asked to develop a multi-port aggregation and filtering solution for a key account. One key required feature was remote access for their 2500+ remote locations," explains Bihary
"As we went through the R&D process we realized this is a first-to-market concept in the fact that the high density chassis can support any network TAP function depending on the customer's needs, as well having the port mapping filter," said Bihary.
Additional functionality includes:

Media conversion: Fiber (SX, LX, ZX) to copper (TX) - or copper (TX) to fiber (SX, LX, ZX). Short range fiber (SX) to long range fiber (LX or ZX)
Management Card: Ethernet with GUI - and Serial with CLI controller
Non-Management chassis available - management card can be added at later date
TAP modules are hot swappable, fully configurable and interchangeable
Chassis accommodates Garland's legacy 1G modular TAPs
All of Garland network TAP solutions are made, tested and certified in the USA
Learn more at: https://www.garlandtechnology.com/1u-or-2u-1g-modular-packet-broker-system
About Garland Technology
Garland Technology guarantees precise data monitoring capabilities with a full line of network access points (TAPs) including: network TAPs that support breakout, filtering, aggregation, regeneration and bypass modes; packet brokering, load balancing and filtering products; all available in portable, 1U or 2U chassis systems. Garland network TAPs support all networks, including copper wire in 10/100M, 10/100/1000M and fiber in 1G, 10G, 40G, 100G. Garland's network TAPs avoid introducing additional software that could be a point of failure to your network.
Garland's design and educational-based approach includes a team of network designers to work directly with you and your team to meet your network access and visibility needs and provide you with the best solution for any monitoring or security appliance - allowing you to see every bit, byte and packet®. For more information, visit http://www.garlandtechnology.com.