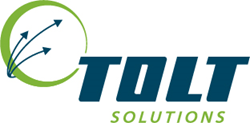 "We are thrilled to be working closely with Enactor", said Jack Gularson, President of Tolt Solutions. "Tolt and Enactor's combined capabilities bring agility, speed and scale, as well as the lowest cost of ownership in the marketplace today."
Taylors, SC (PRWEB) April 25, 2016
Tolt Solutions, a leading retail IT service provider, announced today that it has entered into a partnership agreement with Enactor, a leading retail software developer based in the UK, to be a value-added reseller for Enactor's full suite of retail point of sale applications.
Tolt Solutions supports clients in the specialty retail, grocery, convenience, and food service industries, pairing innovative strategies with best-in-class technology and service, resulting in custom IT solutions that improve efficiency, reduce costs, and enhance customer experiences.
The Enactor Retail Suite gives retailers complete control over business-critical software resources by providing tools to adapt applications on demand to meet their specific business processes without the need for traditional parameter-based source code modifications.
"We are thrilled to be working closely with Enactor," said Jack Gularson, President of Tolt Solutions. "Tolt and Enactor's combined capabilities bring agility, speed and scale, as well as the lowest cost of ownership in the marketplace today."
"With our partnership with Tolt Solutions, we're combining Enactor's true, next generation digital retail applications with Tolt's renowned expertise as one of the leading systems integrators and service providers in the industry," said Derrick Hurley, Head of Business Development, Americas of Enactor.
About Tolt Solutions
Tolt Solutions, based in Greenville, South Carolina, provides hardware, software and managed services to leading retailers throughout North America. For over 40 years, Tolt Solutions has consistently delivered custom solutions with over 1,000+ experts nationwide.
About Enactor
The management team at Enactor, based in the UK, has been at the forefront of the retail software industry for more than two decades. Enactor was founded in 2007 with a vision to build a new class of retail system: one that would give retailers real control over their destiny.