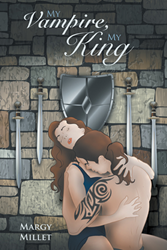 This is more than an erotica thriller...this is the story of an impossible love between two people.
BOSTON (PRWEB) April 25, 2016
Who says only men can play bang, marry or kill? One of the biggest gripes women have with Stephanie Meyer's "Twilight" is that Bella sets the women's liberation movement back by decades. She isn't strong or brave, and she always relies on a man to rescue her.
While "Twilight" fan fiction just adds sex to the original story, Margy Millet's newest erotic thriller, "My Vampire, My King," includes sex but also flips the switch on the heroine. Instead of a girl who gets pushed around and acts as bait, Elena, the main character of Millet's novel, is both a human and a vampire assassin. Elena is the one to make the decision of what to do with her newest target, the Vampire King.
As "Publishers Weekly" uncovered in a recent article, erotica writers find that mixing certain fetishes – such as an alpha female and vampires - leads to big jumps in readership.
"I've read a lot of paranormal novels and liked the basis of them," Millet said. "I wanted to take it a step further though."
Erotica fiction, like any other genre of fiction, has its waves of interest, and right now action thrillers and vampire romances are making a rise in popularity. Millet capitalizes on this from passionate sex scenes to fights to the death.
"This is more than an erotica thriller," Millet said. "This is the story of an impossible love between two people. A love that tests the bonds of family and friends. A love that only soul mates know."
"My Vampire, My King"
By Margy Millet
ISBN: 978-1-4917-6365-0
Available in softcover and e-book
Available on Amazon, Barnes & Noble and iUniverse
About the author
Margy Millet is the author of five books. She was born in Arecibo, Puerto Rico, in 1958, and currently lives with her husband, David, in Worcester, Massachusetts. They have three children and five grandchildren. Her passions include Latin music, dancing, and sports. She is currently working on her sixth novel.
# # #
**FOR IMMEDIATE RELEASE**
For review copies or interview requests, contact:
Elizabeth Coomer
317.371.3919
ecoomer(at)bohlsengroup.com