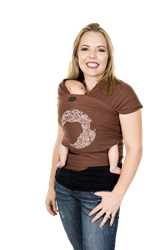 Since our partnership began two years ago, we have planted 7000 trees across the US.
Chico, California (PRWEB) April 24, 2016
On Earth Day, MOBY® has announced the continuation of its partnership with American Forests Global ReLeaf Program. With every purchase of the MOBY® Design Tree Wrap, MOBY® will donate funds to plant a tree. One for one. Global ReLeaf by American Forests has been planting trees across the U.S. and around the globe for over 25 years.
"We are proud to be affiliated with American Forests. Since our partnership began two years ago, we have contributed funds to plant 7000 trees across the US." said Gillian Beerman, President of MOBY®. "Our philosophy at MOBY® is very much in line with the work that the Global ReLeaf program is doing. We want to leave a better planet to future generations and reforestation is the best place to start."
Research indicates every tree makes a difference, absorbing as much as forty eight pounds of carbon dioxide per year, supplying enough oxygen for two people and helping to reduce the Urban Heat Island (UHI) effect. Studies have also shown connecting with nature can increase overall well-being.
So, shop with a purpose this Earth Day and help further conservation efforts.
About MOBY
MOBY® was started by parents looking for the perfect baby carrier. After extensive research, their solution was a variation on a time-tested European carrier. Made from the softest cotton fabrics, the MOBY® Wrap is by far the most comfortable baby carrier available today. Since its inception in April 2003, MOBY® (MOther & baBY) has focused on sharing the benefits of babywearing with parents and caregivers worldwide. MOBY® partners with other organizations that emphasize empowering parents and creating a better world. For more information visit http://mobywrap.com/products/moby-wrap-designs?variant=12154200774
About American Forests
American Forests is the oldest national nonprofit conservation organization in the US and has helped with restoration work in all 50 states and 45 countries, helping to plant nearly 50 million trees around the world. Learn more about the Global ReLeaf project (https://www.americanforests.org/our-programs/global-releaf-projects/) or make a donation online (https://www.americanforests.org/ways-to-give/donate-now/)