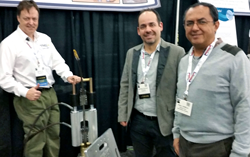 We're excited to extend our relationship with Santiago and VE Group.
Alameda, CA (PRWEB) April 26, 2016
Trenchless Pipe Bursting Manufacturing company, TRIC Tools, Inc. is pleased to announce the addition of Santiago Durango to its sales team. Mr. Durango's through his company VE Group will coordinate TRIC's sales efforts in the Southeast Region of the U.S. In May 2016, TRIC will extend its relationship with VE Group after their success in South America. VE Group started representing TRIC's Pipe Bursting Technology in December 2014. VE Group represents TRIC in Mexico, Latin America and South America (excluding Brazil).
Santiago Durango and VE Group have been involved in the Trenchless Industry for the last 10 years. They have made an important contribution in taking the technology to South America and other regions around the world. Their work started in 2006, where they were involved in supporting a 70,000 ft Pilot Tube Micro tunneling Project in Bogota, Colombia. Since then, they have been instrumental in developing the technology in Ecuador, with the first 3D inspection System; Mexico, supporting the first 72" diameter CIPP project; Argentina, with 48" diameter Guided Auger Boring river crossing; Brazil with a 3,500 ft long 69" CIPP project, and Peru with largest Pipeburting project in South America. They have also recently supplied CCTV, Pipe Bursting and CIPP UV equipment, material and support to one of the largest Trenchless Technology projects in South America (Medellin, Colombia). Santiago and VE Group have supported trenchless projects in most Latin American countries.
VE Group has also formally trained more than 1300 people in trenchless technologies, both at universities and at individual projects. Santiago has also supplied equipment and support on Auger Boring and vacuum excavation in Europe, the Middle East and Africa between 2008 and 2011. Santiago was one of the founding members of ICTIS, the Colombian ISTT chapter. Santiago is a Mechanical Engineer from Seattle University with an MBA from Indiana University Kelley School of Business. Santiago recently completed the Owner/President Management Program at Harvard University.
"We're excited to extend our relationship with Santiago and VE Group, as he brings a lot of industry knowledge and industry connections to our sales team," said Gregg Abbott, TRIC's Director of Sales.
TRIC Tools, Inc. is an infrastructure and environmental solutions company that provides proprietary technology, tools and services for trenchless rehabilitation and replacement of sewer, water, gas and other difficult to access underground pipes. TRIC holds five U.S. and International patents for its device and method of trenchless pipe bursting.
In 1997, TRIC established the standards and created the industry for lateral replacement (home's sewer line) using its pipe bursting technology. TRIC continues to re-engineer its technology for new markets, expanding upon its domestic sewer lateral tools with the introduction of innovative solutions for mainline sewer, drinking water and gas distribution pipelines.
To learn more about TRIC or the trenchless industry please call 888-883-8742 or go to their website at http://www.trictools.com.