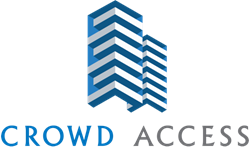 We are excited to contribute to the evolution of this dynamic industry
Sarasota, FL (PRWEB) April 26, 2016
CrowdAccess.com is a real estate investment platform that seeks to capitalize on the recent and continuing rapid growth of the real estate crowdfunding industry by offering investors attractive risk-adjusted returns. The nascent industry is transforming the real estate capital formation process by leveraging technology and new regulations to provide sponsors with quick access to capital while offering accredited investors access to attractive real estate opportunities.
The partnership of Mr. Chacon, founder and CEO of Crowd Access and Mr. Reardon, founder and CEO of Crowdflipr, creates a combined wealth of experience of over thirty years of investment banking, institutional real estate, technology and alternative investment management.
Crowd Access will initially focus its efforts on small to medium size stabilized multifamily investments that will be financed to a target investment horizon of three to seven years, depending on the asset strategy, market and investor profile. This strategy will provide investors with attractive current returns and participation on the potential appreciation of the assets. The properties will be evaluated and managed by an experienced team of real estate and securities professionals.
Milton Chacon, CEO of Crowd Access said: "We are excited to contribute to the evolution of this dynamic industry. Good quality, well managed non-institutional real estate can produce returns that exceed the risk-adjusted returns of many other alternative asset classes. It perplexes me that some investors would take on real estate development risk in potentially overpriced markets rather than stabilized, attractively financed multifamily in secondary markets. Our plan is to make those investments available in small size chunks to accredited investors."
Robert Reardon, Founder of Crowdflipr added: "I am delighted to combine Crowdflipr's technology with an experienced partner willing to prefund equity and commit capital alongside investors on the platform."
About Crowdfunding
Crowdfunding is the practice of funding a project or business by raising capital from friends, family and investors, typically through online platforms that reduce friction and costs. Real Estate Crowdfunding is the process of raising private capital for real estate investments that provides investors with access to new opportunities, lower minimum investment thresholds and increased transparency.
About Crowd Access
Crowd Access has partnered with WealthForge Securities, LLC, a broker-dealer registered with the SEC, Financial Industry Regulatory Authority, Inc., and other necessary state or other regulators to provide execution and other services relating to securities offerings.