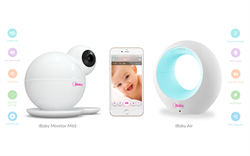 iBaby has been around for over 5 years and it is rewarding to see more and more users globally choose our products.
San Jose, California (PRWEB) April 26, 2016
Today iBaby Labs announced their first appearance on HGTV with their brand lines iBaby and iFamCare. The Silicon Valley based Connected Home startup took the limelight in the CES 2016 dedicated special that showcased unique products seen at the Consumer Electronics Show.
"This defines the beginning of the new era for iBaby," said Elnaz Sarraf, Vice President of iBaby and Co-Founder of iFamCare. "Being shown at the very beginning of the show on HGTV signifies reaching a new level of consumer trust for us. iBaby has been around for over 5 years and it is rewarding to see more and more users globally choose our products."
iBaby Labs owns two consumer electronics brands: iBaby, for everything baby wellness related, and iFamCare, that offers family care monitoring solutions. iBaby has won a number of parenting awards and nominations, including the ones from The Bump, NAPPA and National Parenting Center, for their top rated video baby monitors. iBaby's latest monitor, iBaby Monitor M6T was named "Best Video Baby Monitor 2016" by Tom's Guide. iFamCare has taken the family care market by storm with their first product, Helmet home video monitor, launched in July 2015 on Indiegogo. The campaign quickly gained popularity and earned the company hundreds of backers.
iBaby is planning to release two new products in 2016: iBaby Monitor M6S and iBaby Air. Both products are expected to launch in the next few weeks.
iBaby Monitor M6S will be a further improvement of the video baby monitors line with a sharper resolution of 1080p, ability to work on both 2.4 GHz and 5.0 GHz routers, as well as a basic air quality sensor, in addition to the temperature and humidity sensor.
iBaby Monitor M6S will be available for purchase in May 2016.
iBaby Air is an innovative air quality monitor and purifier that tracks air quality, temperature and humidity. Perfect for households with young children, pets, and allergy-prone people, iBaby Air will notify users if air quality worsens, send tips for improved lifestyle, and purify the air with negative ions. Equipped with two-way audio speakers, the monitor will allow users to hear and talk through the app. The iBaby Care app features Air Station Map to track the data from iBaby Air monitors nearby. The monitor also offers customizable smart air quality lights that indicate air quality.
iBaby Air will be launching in early summer 2016.
About iBaby Labs:
iBaby Labs is a Silicon Valley based startup specializing in video monitoring and wellness Connected Home products for the whole family. For over 5 years iBaby has been changing parents' lives with smart baby monitors that are sold online with Apple, Amazon, Nordstrom, Target, Babies R Us and other major retailers.
iBaby has received worldwide recognition by largest media outlets, and won highest awards and nominations in the industry, that include the ones from The Bump, NAPPA, National Parenting Center, and others.
###
CONTACT:
Elnaz Sarraf
Elnaz.sarraf(at)ibabylabs(dot)com