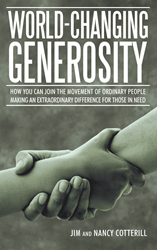 Our book is an important resource for those beginning a generous journey or those who want to step-up their giving to a higher level
INDIANAPOLIS (PRWEB) April 25, 2016
"Living generously is more a gift to oneself than it is to someone else," said "World-Changing Generosity" authors Jim and Nancy Cotterill. In their new book, they engage readers with inspirational stories of ordinary people with normal demands on their time and money who confront want and lack in new and exciting ways.
Neuroimaging research performed by PhD John Grafman reveals that being generous lights up the highest enjoyment centers in the brain, generating a paradox of happiness associated with the act of giving. There was also a five year study from the Science of Generosity Initiative at University of Notre Dame that concluded how giving promotes measurable personal benefits in the areas of mental and even physical well-being.
"First, this book will change the perspective of the reader. Then, we believe, the reader will begin to change the world. All one has to do is find a place they want to plant some hope," Nancy Cotterill said.
Throughout "World-Changing Generosity" the Cotterills share how individuals can dramatically impact efforts to alleviate poverty, disease, hunger, homelessness and slavery.
For those who are looking for more than just inspiration, Jim's years of heading up a national charitable foundation have given him the expertise to provide a roadmap for giving wisely.
"Our book is an important resource for those beginning a generous journey or those who want to step-up their giving to a higher level," Jim Cotterill said.
Written for members of all major faith groups in the U.S. as well as for those who have no religious affiliation, "World-Changing Generosity" inspires everyone to take part in a movement to address the needs of the less fortunate, and the book is a catalyst that will jump-start a life of fulfillment for the reader.
For more information, visit http://www.worldchanginggenerosity.com/featured-book.html.
"World-Changing Generosity"
By: Jim and Nancy Cotterill
ISBN: 978-1-4917-7078-8 (sc)
Available in softcover and e-book
Available on Amazon, Barnes & Noble and iUniverse
About the author
Jim and Nancy Cotterill live and work in Indianapolis where they have been writing, editing, and publishing newspapers and magazines for 30 years. Nancy is an award-winning editorial writer, and Jim serves as president of Indiana's arm of the nation's ninth-largest public charity.
# # #
For review copies or interview requests, contact:
Katie Wenclewicz
317.602.7137
kwenclewicz(at)bohlsengroup(dot)com