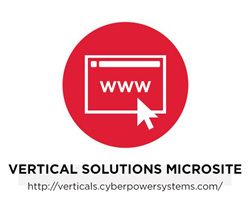 "We are focused on providing people with vertical-specific solutions, quality information, and resources as quickly and effectively as possible." Scott Koller, Vice President of Channel Sales
Minneapolis, MN (PRWEB) April 27, 2016
Cyber Power Systems (USA), Inc. is a global leader in power protection and management products for small- and medium-sized businesses, enterprises and home offices, announces the launch of a vertical solutions microsite. At launch, the microsite will focus on education and government solutions. It will provide channel partners and VARs with access to new business opportunities and sales support. It will also offer tools and resources to help IT professionals find appropriate power equipment for their business applications.
"We are focused on providing people with vertical-specific solutions, quality information, and resources as quickly and effectively as possible," said Scott Koller, Vice President of Channel Sales, CyberPower Systems. "The new government and education content is the first part of a vertically focused web experience that will be unveiled over the next several months with solutions for SMB, point-of-sale (POS), small office and home office verticals to follow."
The government and education microsite offers information, tools, and resources unique to these two key markets. The company also recently launched a five-year warranty promotion. This additional warranty coverage is added at no charge for government and education customers who buy qualified UPS systems through June 30, 2016.
Visit the CyberPower vertical specific microsite at http://verticals.cyberpowersystems.com.
To learn more about CyberPower products, visit http://www.cyberpowersystems.com.
About CyberPower Systems
CyberPower designs and manufactures uninterruptible power supply systems, power distribution units, surge protectors, remote management hardware, power management software, mobile chargers and connectivity products. The company serves customers in enterprise, corporate, government, education, and small office/home office environments. CyberPower products are available through authorized distributors and sold by value-added resellers, system integrators, managed service providers, select retailers, and online resellers. For product inquiries, call 1-877-901-1930 or email sales(at)cpsww(dot)com. To learn more, visit http://www.cyberpowersystems.com, or follow us on LinkedIn, Twitter and Facebook.
©2016 Cyber Power Systems (USA), Inc. All rights reserved. All other trademarks are property of their respective owners.