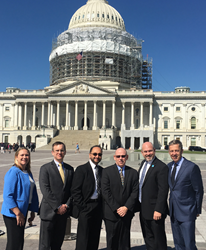 Alexandria, VA (PRWEB) April 25, 2016
The Association of Pool & Spa Professionals (APSP) went back to Capitol Hill last week to ensure that pools and spas are not left out of the energy and tax incentive debate.
APSP Energy Efficiency Coalition members Scott Petty, Hayward Pool Products; Jeff Farlow, Pentair Aquatic Systems; Joe Valentino, Speck Pumps; and Shajee Siddiqui, Zodiac Pool Systems, Inc., talked with members of Congress about energy efficient pool pumps and motors, and the belief that energy efficiency (EE) for residential homes is something that should be encouraged through Federal policy.
The Coalition is working to ensure that the approximately 5.4 million in-ground residential pools and 3.5 million above-ground residential pools in the United States are able to be included in incentives to encourage consumers to make energy efficient retrofits. On average, $753 per year in cost savings can be achieved solely by replacing an old single speed pool pump with an energy efficient variable speed pump.
There is a patchwork of EE incentives at the state and local level, which help encourage consumer behavior. However, APSP's Energy Efficiency Coalition believes that a comprehensive, whole house approach to residential properties will have positive economic impact up and down the supply chain.
APSP CEO & President Rich Gottwald attended and pointed out that in addition to the important work this coalition is trying to achieve, "it is also an example of competitors working together for the betterment of the industry."
"The work of this coalition, if successful, will be a win for consumers who will see lower utility bills, for state government looking to lessen the electric consumption, and for the pool and spa industry to be able to market and install these energy efficient products" said APSP Director of Government Relations Jennifer Hatfield. "It marks the third year this coalition has walked to halls of Congress and all our meetings were extremely positive this year. What we are doing is making a difference."
For more information on the APSP Energy Efficiency Coalition or creating a coalition, email Hatfield at jhatfield(at)apsp.org.
•••
About APSP
The Association of Pool & Spa Professionals (APSP) is the world's oldest and largest association representing swimming pool, hot tub, and spa manufacturers, distributors, manufacturers' agents, designers, builders, installers, suppliers, retailers, and service professionals. Dedicated to the growth and development of its members' businesses and to promoting the enjoyment and safety of pools and spas, APSP offers a range of services, from professional development to advancing key legislation and regulation at the federal and local levels, to consumer outreach and public safety. APSP is the only industry organization recognized by the American National Standards Institute to develop and promote national standards for pools, hot tubs, and spas. For more information, visit APSP.org or the Association's consumer site, EscapetoWater.com.