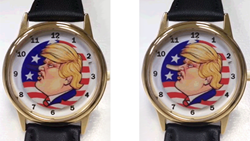 "Sure to amuse and delight Democrats.
Ventura, CA (PRWEB) May 04, 2016
The Washington Watch Co., a well-known manufacturer of satirical political watches since 1993, has introduced a unique watch which is sure to delight and amuse Democrats during the upcoming national campaign. The quality watch features a profile caricature of Donald Trump with an animated nose that triples in length every 6 seconds, then clicks back to its normal length.
Samples of the watch are being sent to leading political columnists and bloggers.
"We're getting a great response to it, both from the public and the media," said Richard Tuck, Marketing Manager for the Washington Watch Co. "The watch makes a humorous political statement about Trump's willingness to say anything to become president. It's a real conversation starter."
The Washington Watch Co.has been designing satirical political watches for over twenty years.Several have become collector's items, selling for as much as ten times the original cost. Tuck believes there is reason for their popularity. "We've found our most popular political watches make a political statement,but in a lighthearted way. Political watches have a storied history going all the way back to the Spiro Agnew watch, They've provided comic relief during campaigns,"
The Trump Growing Nose Watch features a quartz movement, a leather strap and comes in a gift/collector's tin with a lifetime guarantee. The regular price is $49, the introductory price is $34
The watch is being marketed by sales reps to retail stores nationwide, and is available online at http://www.trumpgrowingnosewatch.com.