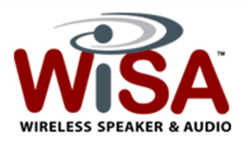 "Ridiculously easy-to-use technology."
Portland, OR. (PRWEB) May 19, 2016
Critics can debate (and will!) the quality of sound from different speaker systems. But they all agree on the benefits of WiSA-compatible home theater systems.
"Get Surround Sound in Your Living Room—Without the Mess of Wires…... It took a while, but the wireless revolution has finally found its way to the home theater: WiSA, a new, ridiculously easy-to-use technology lets you conveniently position speakers all around your living room for optimal sound. The amplifier is gone, and so are the pesky wires you once needed to run to each speaker…A system like this is a huge step up from a soundbar, the elongated speaker-packed box that tries to fire sound every which way." Wall Street Journal.
"Right away the CineHome HD distinguished itself from all of the sound bars we've tested by filling the compact CNET listening room with authentic surround sound from movies. The speakers sounded crisp and clear, and the subwoofer provides a decent amount of bass.…. The CineHome HD's advantage over those old 'box systems isn't sound quality per se, but the WiSA wireless technology that simplifies setup chores. It worked flawlessly over the course of the review." CNET
 
"The RP-440WF surround set -- or to give its official name of the Klipsch Reference Premiere HD Wireless 5.1 Speaker System -- is a tidy all-in-one which offers ridiculously easy setup, and the cohesive home-theater surround sound only a matched multispeaker system can provide." CNET
 
"System set-up thus becomes a snap, using the wireless remote and on-screen guide, and potentially much improved for neat freaks…. With both Dolby Digital Plus and DTS surround sound decoding built in, an Enclave CineHome system presents dramatically with hyperactive, room-rocking sound tracks." Philadelphia Inquirer
"The experience left me more enthused about the potential of WiSA (Wireless Speaker and Audio Association) than ever….I literally can't wait for the day when wireless, self-powered speakers are the norm, and passive wired speakers are considered an anachronism." AVS Forum
"After much deliberation, I recently purchased an Axiim Q wireless AVR (as part of a 5.1 WiSA home theater bundle). I got everything set up yesterday, and so far I'm super impressed (configuration was dead simple, and it sounds awesome)." AVS Forum
"I am sold on the value of wireless audio, and the ability of WiSA to deliver the quality of a wired solution wirelessly… Besides the initial "Wow, that didn't take long", the nature of the system stopped being notable any more than copper wires would be in any other audio system review; it just worked." Missing Remote
"However, most would argue that at the very least, having a great audio setup is at least as important, if not more so, than the video screen to having a great home cinema experience.….If you're a renter, or unable to run speaker wires all over your living room, the Axiim Q is a no-brainer. It is simple, beautiful, relatively affordable, expandable, sounds nice, and can only get better as time goes on." Digital Media Zone
"We love almost everything about home theater. The one thing that doesn't seem to add a whole lot to the experience is that wire mess. Of course, we realize it has a purpose. However, the folks at Axiim have come up with an interesting, clutter-free solution." Big Picture Big Sound
About WiSA
The WiSA Association provides a wireless standard for HD audio that combines the convenience of wireless installation with the cutting edge features of firmware upgradeability, elimination of complex AV receivers, full multi-channel sound for theater-level impact, and low latency so that the sound is 'synced' with the video. Membership includes leading Audio Video companies worldwide.