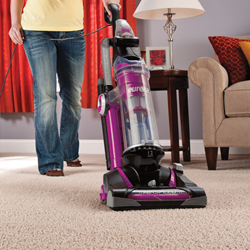 Charlotte, N.C. (PRWEB) April 25, 2016
Spring is here, but before consumers can enjoy the warmth and sunshine, it's time to clean away the accumulated mess from winter months. According to the American Cleaning Institute, more than 70 percent of Americans engage in spring cleaning.* Eureka® offers tips and tools to dispense with the cleaning quickly, so homeowners can get back to their busy lives.
"Spring marks the start of new beginnings. For many households, that means purging and doing a really deep clean as we transition to warmer weather," said Jillian Hillard, Director of Brand Marketing for Eureka. "Eureka understands what needs to get done and how to do it, so that consumers can spend more time on the things they want to do – not need to do."
Tips for a Quicker Clean
Recruit a Cleaning Crew – Spring cleaning should be a "whole house" task, so get the whole family involved. Extra hands will help projects get completed faster and teach children about the rules of cleanliness. Even little mess-makers can help with age-appropriate jobs such as picking up toys or sorting laundry by color, so create a chore chart to help keep everyone on task and ensure chores are completed in a timely fashion.
Bust the Dust, Dirt and Grime – Wood furniture, like coffee tables and dressers, attract a lot of dust. Start by cleaning wood with an oil or polish to remove dust and bring its luster back. While dusting, don't forget to look up. Dust hides on fan blades, ceiling moldings and lampshades, often escaping the novice spring cleaner's eye.
Mission Multitask – Multi-purpose cleaning tools allow for quick and easy movement from room to room, saving time and space. Look for all-purpose cleaners or 2-in-1 products that allow for a lighter load, while still achieving a complete clean. Vacuums with attachments for upholstery or countertops, as well as multi-surface cleaners and paper towels strong enough to wipe off mirrors, sinks and walls, will keep consumers from running in between rooms for tools.
Floor Your Floor – After months of tracking in snow, mud and salt, make hard floors shine with a non-abrasive floor cleaner that kills germs without harming the floor's surface. Don't forget to use knee-pads or a few old towels for protection from the hard floor. To remove ground-in dirt from rugs, simply flip them over and vacuum both sides. Because carpet can hold up to 10 times its weight in dirt, at least two passes over carpeted surfaces will help remove deeper dirt that regular maintenance may leave behind. For this task, use an upright vacuum with strong suction power and at least a 12-amp motor to ensure even deep-down dirt and dust are captured.
Tools of the Trade
For the best spring cleaning job, homeowners need the tools to match. Below are some suggested products to help spring cleaners kick messes to the curb:
Coming Soon! Eureka AirSpeed All Floors® – Designed for all floors – from super plush carpets to vinyl planks, tile and more – the Eureka AirSpeed All Floors is the ultimate versatile upright vacuum. Consumers can turn the brushroll on for powerful cleaning on carpeted floors and area rugs or turn the brushroll off to prevent dirt and debris from scattering on bare floors. AirSpeed All Floors also features a 39 foot extension hose for removing dust and dirt in hard-to-reach places and deep cleaning AirSpeed® Technology for powerful suction.
Eureka Brushroll Clean™ – Big cleaning jobs and busy households need an upright vacuum with power and technology that's up to the task. The patented, self-cleaning brushroll clears tangled hair from the brushroll with the push of a button and features exclusive technologies for better suction and airflow.
Eureka Mighty Mite® – Every home needs a quick canister vacuum for small jobs, whether it's for garage sweep-ups, attic cleaning or porch maintenance. The popular Eureka Mighty Mite canister vacuum features a 12-amp motor to cover a wide range of jobs, and weighs less than nine pounds.
For more information on the Eureka Brushroll Clean and Eureka Mighty Mite, available now at Walmart, Walmart.com and Amazon.com, consumers can visit eureka.com. Eureka AirSpeed All Floors will be available for $99 at Walmart starting in May 1, 2016.
*According to a 2013 survey of 1,777 Americans conducted by the American Cleaning Institute.
###
About Electrolux Small Appliances North America
Electrolux Small Appliances North America (ESA-NA) leverages consumer driven insight to manufacture and market innovative small appliances for the home. The company markets floor care, air care and fabric care products, as well as small kitchen appliances, to consumers under its well-known Eureka, Electrolux and Frigidaire Professional brands. It also sells high-quality commercial products under its Sanitaire brand name and offers central vacuums made by its Electrolux Central Vacuum Systems division (formerly known as Beam Industries). ESA-NA is based in Charlotte, N.C., and is a part of The Electrolux Group. Visit http://www.electroluxappliances.com, http://www.eureka.com, http://www.frigidaire.com or http://www.beamvac.com for more information.