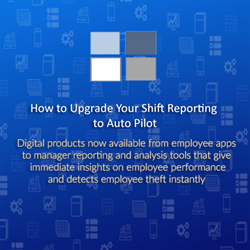 Revolutionary web and mobile apps for retail businesses that want to automate their shift reporting process
Providence, RI (PRWEB) April 25, 2016
Shift Reports has recently released a web and mobile app designed for retail businesses that struggle with managing their cashiers shift reports. Since most retail stores employ a paper system to track the shift details, which can be a daunting task and time-consuming to review many shift reports manually and calculate any shortages - the Shift Reports app can be the answer many retail businesses have been looking for to automatically streamline their shift reporting process.
Currently these days, there hasn't been any enterprise software on the market to assist these businesses in streamlining this process. In many cases, a store manager would need to spend anywhere from one to several hours per day reviewing these reports and making sense of them to make a determination if the cashier has shorted the business with cash, cigarettes, and lotto tickets.
The Shift Reports App makes it easy for retail businesses to have their cashiers input their opening and closing drawer counts where cashiers quickly count their drawers by counting the number of pieces of each denomination and the app calculates the total drawer value. On submission of each shift, the manager will be able to just enter the cash counted and shows any shortages immediately.
The app can be accessed by any device whether on a PC, tablet, or smartphone without having to download any apps from app stores. Business owners and managers can receive immediate reports upon shifts submitted and can make a quick determination on the performance level of each employee and any potential theft that has occurred by the employee.
The app can save management hours each day, which can result in thousands of dollars per month of savings in operation costs for as little as $19 per month.
Shift Reports offers a free trial period that doesn't require any credit card, and is quick and simple to get going within 15-30 minutes for their basic plan. You can visit their website at http://www.shiftreports.com to learn more.