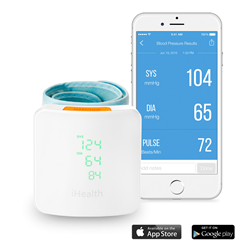 Mountain View, CA (PRWEB) April 26, 2016
iHealth, a worldwide leader in the field of connected health launches the iHealth View Wireless Wrist Blood Pressure Monitor with a display screen. With its sleek, compact and lightweight design, it is convenient for monitoring at home or on the go.
Clear and instantaneous results
Clinically tested and FDA approved, the wrist cuff automatically detects and directs optimal arm positioning on the unit's display screen for precise results. With the iHealth View, the user can take readings and see results on the device display. Users can sync the stored data after taking the measurement using Bluetooth® Smart Ready™ technology. The iHealth View stores up to 120 measurements before synchronization. The iHealth View also detects arrhythmias in order to allow better adaptation of the treatment.
A complete blood pressure tracking system
The iHealth View synchronizes to smartphones and tablets via Bluetooth 4.0+ with the iHealth MyVitals app. The app keeps track of historical data and provides a graph that allows users to better monitor and manage their blood pressure. Results are also classified and analyzed according to World Health Organization (WHO) recommendations. Data is stored on the secure, HIPAA compliant iHealth Cloud. iHealth users can then share results with a doctor, caregiver or family member.
A complete range of products for health management
iHealth View completes a range of iHealth wireless medical devices that include iHealth Edge activity and sleep tracker, iHealth Ease blood pressure monitor, iHealth Feel blood pressure monitor, iHealth Sense wrist blood pressure monitor, iHealth Lite and iHealth Core scales, iHealth Air pulse oximeter, as well as iHealth Smart Gluco-Monitoring System and iHealth Align glucometer.
Price and Availability
The iHealth View will be available at a recommended price of $99.99 U.S. at iHealthlabs.com, Amazon.com, Bestbuy.com, Bestbuy.ca and in-stores at Best Buy Canada.
The free iHealth MyVitals app is available on the Apple App Store and Google Play Store.
About iHealth
iHealth is a global leader in consumer-friendly mobile health devices and apps that enable individuals to take a more active role in managing their personal health. Based in Silicon Valley, iHealth has designed and manufactured an award-winning line of clinically approved mobile health electronics that include wireless blood pressure monitors; blood glucose meters; body analysis and composition scales; a pulse oximeter and activity tracker. These medical-grade products securely sync with the iHealth MyVitals and iGluco apps on iOS and Android devices, allowing users to chart their personal health data, monitor for changes, and share this information with a doctor or family member using secure cloud connectivity.
For enterprise clients, we also offer comprehensive software solutions.
For more information please visit ihealthlabs.com and follow us on Facebook and Twitter.
###
Press Contact
Molly Ortiz, marketing manager
Molly(dot)ortiz(at)ihealthlabs(dot)com