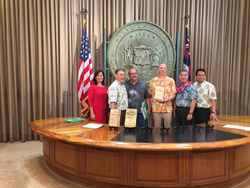 We have always been eco friendly. Our recycling, energy and water saving programs have been in place for many years and we're proud of it. This program taught us how much more we could do. We did them. We are excited to improve on our efforts.
Wailuku, Hi (PRWEB) April 23, 2016
Earth Day 2016 was celebrated by Hawaii's Governor David Ige as Valley Isle Excursions accepted the Green Business Award for its efforts to conserve energy, reduce water usage and improve recycling. Valley Isle Excursions is the first tour company in Hawaii to complete the Hawaii Green Business Program.
Valley Isle Excursions' long standing commitment to an eco friendly Hawaii vacation goes back to 1998 when it first started offering Maui tours. Starting at the baseyard office and extending out across the island, VIE supports many environmental initiatives, educational and cultural programs. Eco friendly modifications, both at the baseyard and on the tour, have resulted in significant energy and resource savings.
The tour baseyard building was specially designed to reduce electrical & water usage, maximizing the efficiency and safety of the entire operation—and continuous onsite maintenance of the fleet of custom cruisers provides the ability to manage all aspects of usage and disposal of materials.
VIE was recognized for its eco friendly initiatives, including:

Maintenance bay floors have a reflective coating, allowing for less light required for vehicle repairs.
A custom designed bottle draining system removes waste & maximizes every drop of oil, resulting in clean bottles that can be recycled.
The ice-machine used for tour coolers has been re-engineered to super-cool the water prior to ice making, greatly reducing electrical costs.
All landscaping is native with low-water requirements and melted cooler ice is used for all irrigation needs.
The building is mostly air-cooled. Window's orientation utilizes tradewinds to provide a constant cool breeze thru the office windows and installed sunshades. In closed areas, air-conditioning thermostats are set higher, at 72 degrees.
Every ocean drain is marked properly. Vehicles are cleaned on-site with minimal water and use only reef-safe, eco-friendly ingredients. Toilets & faucets have low-flow devices.
The cardboard and paper recycling program decreased trash by more than 50%.
Most of the accounts payable and billing is completely digital. All remaining paper product usage in the office is made with 30%+ recycled materials.
Solar powered dual-purpose outside security LED lights illuminate for up to 20 minutes when motion is detected.
Electrical appliances such as battery chargers for tools & cell phones are set to turn off during low demand periods.
On tour, Valley Isle Excursions reduces or eliminate fuel & water waste with eco-friendly practices like:
Extensive driver training on fuel conservation.
100% of the containers provided to guests are brought back to the baseyard for recycling.
Reusable cutlery & plates are used during the tour as well as recycled paper products.
The picnic lunch in Hana is GMO-free and the chicken served has been grown organically.
As they strive to improve their practices and reduce impact, they have set a number of environmental goals and initiatives, which include:
Installation of solar and wind generators.
Further reduction in paper and plastic usage.
All tour vehicles converted to cleaner fuel sources.
Bulk shipping and increased recycled product options through like-minded business partnerships.
Valley Isle Excursions wants other companies involved, so they are petitioning organizations to re-evaluate industry standards so that Energy Star, LEED and Green Business Certifications can be awarded to more Maui businesses. Support of the Hawaii Ecotourism Association & BeReefSafe.com campaigns are important as well. VIE invites all businesses to "Go Green" and participate in BeReefSafe.com and help keep Hawaii beautiful!