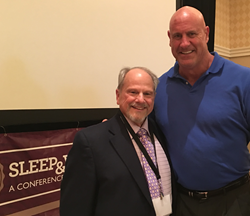 This has only renewed my vigor, sense of purpose, and I will work even harder to accomplish ASBA's great cause by taking it to the forefront of America
Washington, DC (PRWEB) April 25, 2016
Dr. Elliott J. Alpher has dedicated more than 30 years of his career to improving the lives of his patients suffering with Craniofacial Pain and Sleep Disorders in the Washington, DC Metropolitan Area. His extensive training and commitment to comprehensive treatment continues to earn him commendable recognition. Dr. Alpher has made remarkable efforts to advance the treatment of Craniofacial Pain and Sleep Disorders.
Upon attending the American Sleep and Breathing Academy's (ASBA) Sleep and Wellness conference in Scottsdale, Arizona Dr. Alpher was honored and initiated into the American Sleep and Breathing Academy's Hall of Fame for his contributions and achievements in Dental Sleep Medicine. NFL legends, including Eric Dickerson, Roy Green, Mike Haynes, Super Bowl Champion Derek Kennard, Mark Walczak, Former Congressman Marty Russo, and ASBA's Executive Director, David Gergen were among the esteemed presenters. "This has only renewed my vigor, sense of purpose, and I will work even harder to accomplish ASBA's great cause by taking it to the forefront of America," commented Dr. Alpher.
As his impressive list of accolades grows, Dr. Alpher remains humbly dedicated to his successful practice and his patients. He continues to commit his time and energy to assisting those with Craniofacial Pain and Sleep Disorders as well as bringing awareness to sleep disorders, such as Obstructive Sleep Apnea. Obstructive Sleep Apnea affects about 25 million adults, and more than 80% are undiagnosed. Obstructive Sleep Apna (OSA) is a potentially life-threatening condition, including an increased risk of stroke, heart disease, impaired concentration, mood changes, impaired glucose tolerance and insulin resistance.
Dr. Elliott Alpher, one of the District's most experienced specialists for sleep and jaw disorders, on staff at George Washington University Hospital and Georgetown University Hospital, has been known as a leader in the treatment of sleep disorders and jaw pain for 25 years. Dr. Alpher has pioneered a conservative, non-invasive approach utilizing computerized and verifiable diagnostic methods to treat TMD, snoring and sleep apnea. This method of treatment has proven to be greatly successful and is highly regarded as the first method of choice by Physicians and patients.
Dr. Alpher was also recently responsible for heading a delegation to the Federal Motor Carrier Safety Administration (FMCSA) and Medical Advisory Board (MAB) to introduce the new technology of compliance chips in oral appliances to treat and monitor sleep apnea and snoring of truckers and other transportation personnel. In addition, he earned the status of Diplomate of the American Board of Craniofacial Pain & Dental Sleep Medicine in October 2013 and serves as a Board member. Dr. Alpher is a Diplomate of the American Academy of Pain Management, Life Member of both the American Dental Association and the District of Columbia Dental Society. Dr. Alpher is also a Board member and Diplomate to the Board of the American Sleep and Breathing Academy since March of 2014.