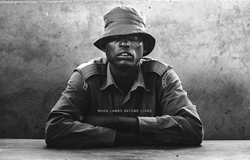 "When Lambs Become Lions is a film that dives deep into the lives and souls of those involved in the poaching crisis. More than a wildlife film, this is a film about humanity and the social poverty traps - Andrew Harrison Brown (Filmmaker)
Oakland, CA (PRWEB) April 25, 2016
The fourth in Oakland Zoo's 2016 Conservation Speaker Series, the evening will consist of a 'making of' presentation by Mr. Brown on the creation of the ground-breaking documentary film (http://www.whenlambsbecomelions.com) about the people involved in Kenya's wildlife conservation battle, including an anti-poaching ranger with Big Life; exploring the line between conservation and extinction and hearing first-hand about the people on both sides of the crisis. Oakland Zoo is proud to be a key sponsor for the film and is also a conservation partner of the Big Life Foundation.
"When Lambs Become Lions is a film that dives deep into the lives and souls of those involved in the poaching crisis. More than a wildlife film, this is a film about humanity and the social poverty traps that often undermine the world's conservation efforts. Our goal was to create a truly intimate account of those living on the front lines of this crisis - and I think we are accomplishing that," said the evening's guest speaker and filmmaker, Andrew Harrison Brown.
The film is directed by Emmy-winning director Jon Kasbe and further illustrates how wildlife species are going extinct at an alarming rate in Africa. Wildlife is critical to East Africa's continued economic development and Africa's development is vital to the rest of the world's success.
"We are very excited to welcome Andrew Harrison Brown to Oakland Zoo," said Amy Gotliffe, Conservation Director at Oakland Zoo. "This upcoming film is going to tell a much needed story about the ivory crisis and the lives the people behind the issue. The more insight we all have, the more we can take action to help African elephants and all threatened species."
The Conservation Speaker Series will take place in Oakland Zoo's Zimmer Auditorium, located at the lower entrance of the Zoo. Parking is free and the admission price for the evening's speaker presentations is $12.00 - $20.00 per person (sliding scale). All proceeds from this event will be donated to the the Big Life Foundation.
For additional information about Oakland Zoo's Conservation Speaker Series, please contact Amy Gotliffe, Conservation Director, at amy(at)oaklandzoo(dot)org
ABOUT THE CREATOR, ANDREW HARRISON BROWN:
Andrew has worked in nearly every corner of the world with impoverished communities but East Africa has carved out a special place in his heart. Andrew was inspired to create & produce WHEN LAMBS BECOME LIONS while spending time in Kenya's traditional Maasai lands. He is currently enrolled at Duke University's Nonprofit Management program in hopes of pairing his love for story-telling with his desire to be engaged with various global causes. He is the founder of Ragtag Tribe production company (http://www.ragtagtribe.com).
ABOUT THE IVORY CRISIS:
The tusks or ivory of an elephant is a very desirable material and the only way to obtain the tusks of an elephant is to kill them. Due to a growing middle class in China and ivory being used as a symbol of "status in society", the demand for ivory is at an all-time high. The estimated cost per 1 kg (2.2 lbs) is $1800.00 US dollars. If an average female elephant has about 10 kg of ivory, than each elephant is worth $18,000.00 dollars, and that's wholesale. The retail value of 10 kg can be sold for $60,000 dollars! The incentive is paramount. The money that is being generated by wildlife trafficking is a 7-10 billion dollar industry, which ranks fifth globally behind trafficking in drugs, humans, oil, and counterfeiting. Even worse, the trafficking is dominated by well-organized syndicates that operate as transnational criminal networks and often participate in other illegal activities, including trafficking in narcotics and weapons, and some have links with terrorist networks. Shockingly, besides Asian markets, the United States is in the top ten nations to import ivory. Much of this trade is legal under a confusing set of U.S. regulations that perpetuates black market sales of illegal ivory.
California just passed a new law eliminating the loophole with antique ivory, a small victory in the overall crisis.
ABOUT OAKLAND ZOO
The Bay Area's award-winning Oakland Zoo is home to more than 660 native and exotic animals. The Zoo offers many educational programs and kid's activities perfect for science field trips, family day trips and exciting birthday parties. Oakland Zoo is dedicated to the humane treatment of animals and wildlife conservation onsite and worldwide; with 25¢ from each ticket donated to support conservation partners and programs around the world. The California Trail, a transformational project that more than doubles our size, opens in 2018, and will further our commitment to animal care, education, and conservation with a focus on this state's remarkable native wildlife. Nestled in the Oakland Hills, in 500-acre Knowland Park, the Zoo is located at 9777 Golf Links Road, off Highway 580. The East Bay Zoological Society (Oakland Zoo) is a nonprofit 501(c)3 organization supported in part by members, contributions, the City of Oakland and the East Bay Regional Parks. For more information, go to: http://www.oaklandzoo.org