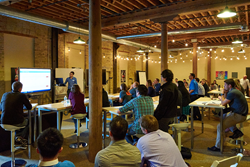 The speed interview format allowed me to talk to well over 20 people in a couple of hours and very likely I'm going to hire one.
Milwaukee, WI (PRWEB) April 26, 2016
devCodeCamp, a software training bootcamp service provider that trains individuals without prior coding experience to become junior software developers in just 12 weeks, today announces that its first hiring day event that was held on March 31st was met with enthusiastic responses and outcomes from both employers and devCodeCamp graduates. The devCodeCamp Hiring Day Event was also sponsored by The Milwaukee Business Journal, Ward4 LLC, a start-up co-working hub, and The Commons, which provides local college students the opportunity to learn and launch the next generation of entrepreneurs.
During the Hiring Day the 24 student graduates had 5 minutes to present their software application capstone projects to 36 hiring managers that represented the 17 companies in attendance. Once presentations were complete, the grads then proceeded to interview with the companies. Employers were located in separate areas within Ward4 and grads moved from company to company every 10 minutes when a "switch to the next interview" was announced. The process was much like "speed dating" where grads and employers got to know a bit more about each other so as to mutually decide if they wanted to proceed further. To that approximately 100 second interviews have been scheduled. Already 4 grads have accepted offers of full time employment and another 9 are expecting offers by early next week.
"The remaining graduates are still meeting on initial, second and third interviews and we expect that the majority of those to receive offers before the middle of May," said Dave Fedel, Community Manager, from devCodeCamp. The next Hiring Day event is scheduled at devCodeCamp, located at 333 N. Plankinton Ave., Milwaukee, WI on June 14.
Hiring Companies attending the devCodeCamp Hiring Day included Brady Corporation, with over 6400 worldwide employees, Artisan Partners, a global investment management firm, Centare, a custom software development company located in Brookfield, GMR Marketing, which provides worldwide marketing services for sports, music and entertainment, DentaQuest, which is one of the nation's leading oral health companies, Aquent Solutions at Rockwell Automation in Milwaukee, Zywave, which is a leader in insurance agency software, PKWare, a leading provider of data security software, and Accelogix, which is a national provider of supply chain systems, along with Hive Media, WonderBox Technologies, Advicent, GS Design, Penta Technologies, Netrix, Ice Frog Technologies and Proship, Inc.
About devCodeCamp
DevCodeCamp provides an immersive 12 week software development bootcamp focused on JavaScript, C# and Microsoft .Net technologies for individuals who want to enter into a career in coding and software. The bootcamp provides student participants over 600 hours of computer science fundamentals, individual and pair programming projects as well as small group projects. Our coding bootcamp simulates a real development operation environment. Participants have daily Scrum meetings and learn agile development and project management techniques. The bootcamp is capped off by students coding a capstone software application that utilizes the various technologies that they learned. DevCodeCamp has a 95% placement rate within 120 days of graduating. DevCodeCamp graduates are placed in full time junior dev software positions and graduates to date have an overall average starting salary of $54,800. Tuition for the program is $14,987. DevCodeCamp is not accredited so federal student aid is not available, however, private loans based on previous credit history or applying with a co-signor with credit history is available to devCodeCamp applicants. For more information regarding the software development bootcamp or to apply see: http://www.devcodecamp.com