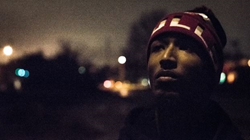 I don't do this just because I have the ability to do it... - 2Ru3
Columbia, South Carolina (PRWEB) April 27, 2016
Making a name for himself in today's hip hop scene, 2Ru3 is an artist that seeks to be genuine with his art and create a legacy of timeless music with a message as others have done before him.
His debut project, Alpha (The Beginning) recently released through digital retailers (iTunes, Amazon, Google Play, etc.) April 10th and symbolizes the beginning of what 2Ru3 hopes will be a meaningful and successful career as an artist creating music that reaches the masses and helps bring positive change. He passionately states: "I don't do this just because I have the ability to do it….I'm really trying to bring the very thing we keep saying we want/need. Yes, my vision is deeper than music, but it goes hand in hand with it. I want to show that not all rappers are the same, not all Christians are what we often see or hear through media. There are still real deal individuals out here representing what they saying and doing their best to live right. I also want to show that people from South Carolina, especially Columbia can do great things, too."
The project contains 5 tracks, all produced by 2Ru3 and features his first single "The People" which released November 10, 2015. In the song, 2Ru3 talks about what he sees going on in society and suggests we should take self inventory of how our actions could be possibly helping the creation of atrocities going on that we've become too familiar with. The song carries a deep message on various social injustices and also addresses general issues any can relate to. It's a generational and multi-cultural message that pleads for us to unite as a people despite our differences and recognize that we have our share of faults in the turmoil we see instead of blaming everything on people in leadership positions. With thought provoking lyrics like "Many opinions and estimations while lacking truthful statements, Fantasy living used as tools to escape real life situations…" 2Ru3 has proven himself as not only a deep thinker, but also a lyricist who writes from and for the soul.
Upon the EPs release, 2Ru3 released another single called "Dey Neva Knew" where he talks about some of his aspirations as an artist. He also speaks on moments he felt others around him didn't want him to succeed or expect him to be anything noteworthy. The track is available to stream on soundcloud and has been featured on hip hop blogs such as Precise Earz and HipHopSince1987. The first verse starts with "Reaching the masses, through lyrical blasting from my genuine spirit, trying to impart some hope in the souls of those who feeling lonely and afflicted/ Though I'm trying to get bigger figures my missions deeper than bread, spewing verbal Uzis of truth ripping all fallacies to shreds…", showing 2Ru3 as an artist who wants to make the money, but it's not his sole purpose.
The South Carolina native has an original sound that has an old school style, yet feels new and unique. 2Ru3 has been compared to some of the hip hop greats such as 2Pac, DMX, and even Bone Thugs N Harmony for his various passionate flows. This brings to mind the Noreaga and Vince Staples debate concerning new age artists and their respect or lack thereof for the generation of artists before them. From listening to 2Ru3's music, it's obvious he doesn't fit in that category. His lyrical delivery, the instrumentals he produces and his overall style as an artist is undeniably influenced by what many call the golden age of hip hop.
2Ru3 has also gained some media attention for the single "The People" and its powerful message which allowed him to interview with Anna Stephenson on WNNRadio in Miami, Rob G on the Psych Word Radio show in Connecticut, and with local Columbia radio host Don Frierson at WGCV620AM. So far the artist has performances and events scheduled for every month this year, to get in contact or find out more information, visit his official website.