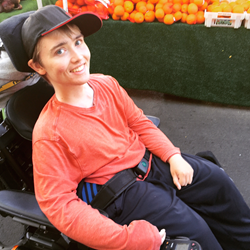 We must move this technology forward for all of the boys and young men with Duchenne, and we strongly advocate for FDA approval.
Newport Beach, California (PRWEB) April 24, 2016
Coalition Duchenne, a Newport Beach, California based charity committed to raising awareness for Duchenne muscular dystrophy, and funding for Duchenne research, is proudly attending the April 25 U.S. Food and Drug Administration advisory committee hearing on the efficacy of the Sarepta Therapeutic's novel Duchenne drug eteplirsen. The meeting at the Marriott Conference Center in Hyattsville, Maryland, could draw more than a thousand people. The FDA usually follows the recommendation of advisory panels and will decide on whether to approve eteplirsen by May 26.
"I'm excited to join hundreds of Duchenne advocates as we fight for the approval of eteplirsen," said Catherine Jayasuriya, founder and executive director of Coalition Duchenne. "Our funding of the science underpinning eteplirsen goes back to Dr. Steve Wilton's work on oligonucleotides over a decade ago."
Catherine funded the Dusty Brandom Fellowship at the University of Western Australia, commencing in 2005, in support of Dr. Wilton's research, elements of which are now licensed by Sarepta. The Dusty Brandom Fellowship was named after Catherine's son Dusty, who is now 23 years old. Dusty has been a leader in creating awareness about Duchenne worldwide. He was featured in the 2013 award winning documentary, "Dusty's Trail: Summit of Borneo," and the 26th anniversary edition of the inspirational CBS television show "Courage in Sports" in 2015.
"The scientific and medical community are overwhelmingly in support of eteplirsen approval. I know it is challenging for the FDA to review fast tracked drugs for rare diseases but we need to get eteplirsen into the clinic, and also work on follow-on drugs that will help more boys with Duchenne. Boys like Dusty," said Catherine.
Eteplirsen skips a damaged part of the gene that codes for dystrophin, the protein missing in boys and young men with Duchenne. That damaged part of the gene, exon 51, was chosen because it is one of the more common genetic mutations.
"Dusty has a relatively rare mutation on exon 16. Eteplirsen will not help him. However, follow-on drugs using the same technology will. We must move this technology forward for all of the boys and young men with Duchenne, and we strongly advocate for FDA approval," said Catherine.
About Coalition Duchenne
Coalition Duchenne was founded in 2011 to raise global awareness for Duchenne muscular dystrophy, to fund research and to find a cure for Duchenne. Coalition Duchenne is a 501c3 non-profit corporation. Its vision is to change the outcome for boys and young men with Duchenne, to rapidly move forward to a new reality of longer, fulfilled lives by funding the best opportunities for research and creating awareness.
Coalition Duchenne has several research initiatives that are making advances in potential cardiac and pulmonary treatments for sufferers of Duchenne muscular dystrophy. These include the pioneering collaboration with a team at Cedars-Sinai Medical Center in Los Angeles, California, led by Eduardo Marbán MD, PhD, working on cardiac-derived stem cells and exosomes in Duchenne. This technology has been licensed by Capricor Therapeutics and they have launched an FDA trial. Coalition Duchenne was also instrumental advancing Phrixus Pharmaceuticals' novel therapy Carmeseal. Phrixus recently announced a preclinical study showing strong results that showed Carmeseal protecting both skeletal and cardiac muscle in Duchenne.
For more information about Coalition Duchenne, visit http://www.coalitionduchenne.org.
About Duchenne muscular dystrophy
Duchenne muscular dystrophy is a progressive muscle wasting disease. It is the most common fatal genetic disease that affects children. Duchenne occurs in 1 in 3,500 male births, across all races, cultures and countries. Duchenne is caused by a defect in the gene that codes for the protein dystrophin. This is a vital protein that helps connect the muscle fiber to the cell membranes. Without dystrophin, the muscle cells become unstable, are weakened and lose their functionality. Life expectancy ranges from the mid teenage years to age 30.