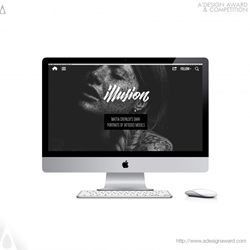 Como, Italy (PRWEB) April 24, 2016
A' Design Award congratulates project Illusion for winning the prestigious Platinum A' Design Award in the Website and Web Design Competition Category. It is truly an outstanding achievement to have been selected for the Platinum A' Design Award by the 83-person judging panel. The A' Design Award is an international design accolade honouring the very best in all design fields. The A' Design Award is widely considered to be the world's largest design award. In this edition of the competition, there were over one thousand winners from almost ninety countries.
Regarding Illusion, Adriana de Barros, the lead designer of the awarded Web work, said, "Illusion is an arts magazine covering fine art, graffiti, tattoo, design, and cinema. With a mission to present quality works from each field of art and cinema, Illusion gives readers a refined and innovated take on the world's most unusual artistic creations. Specializing in tattoo art, Illusion brings this common art form to the next level, showing that it rivals anything created on canvas." Learn more and download high-resolution photos at: https://competition.adesignaward.com/design.php?ID=45158. Illusion (Full-Screen Redesign) was designed by Designer, Programmer, Project Manager: Adriana de Barros and CSS3 and HTML5 programmer: Vasiliy S.
The Platinum A' Design Award
The Platinum A' Design Award is a prestigious award given to the top 1% percentile designs that have achieved an exemplary level of excellence in design. Entries to the A' International Design Competition are judged by an expert jury panel composed of press members, academics and professional designers who peer review and anonymously evaluate the submissions based on strict guidelines and predetermined criteria. Laureates of the A' Design Award & Competition are given the A' Design Prize which includes a series of PR and publicity tools such as interviews with designers to help promote the winners.
About A' Design Award and Competition
A' Design Award and Competition aims to highlight the best designs, design concepts and design oriented products worldwide in order to create a global awareness for good design. A' Design Award and Competitions are organized and awarded annually and internationally in multiple categories to reach a wide, design-oriented audience from across the globe. The ultimate aim of the A' Design Accolades is to push designers and product manufacturers worldwide to come up with superior products that benefit society. Learn more and discover A' Design Awards at: http://www.designaward.com