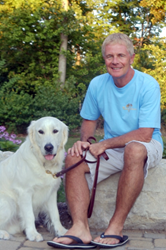 When I heard about Pet Wants and their commitment to fresh, healthy food, I knew it was a product I wanted to able to offer my clients and my community. - Tom Schwieterman
Powell, OH (PRWEB) May 03, 2016
Tom Schwieterman is proud to announce that he's bringing a new kind of pet food to the region through his new business, Pet Wants Powell.
Pet Wants' carefully developed proprietary pet food is slow-cooked with fresh, all-natural ingredients. The company has their distributor make the dog and cat food in small batches once per month so every kibble is guaranteed to be fresh and packed with nutrition. Pet Wants Powell's mobile service delivers to Powell, Dublin, Lewis Center, Delaware, Upper Arlington and the surrounding communities.
Tom Schwieterman is no stranger to pet care. In addition to Pet Wants, he owns the Powell Snaggle Foot Dog Walks and Pet Care. He opened Pet Wants because he wanted to be able to provide great nutrition in addition to his pet care services.
"I love animals and I've been working with pets and pet families for more than five years through Snaggle Foot. I'm excited about this expansion of services and about offering a better food to the pets in the area – especially since you don't even have to leave the house to get it. We'll bring Pet Wants right to your door with our convenient mobile delivery service," Schwieterman said.
The inspiration to open Pet Wants Powell all started while Schwieterman was running his other business. Through the time he spent with pets and their families he discovered not only how important the animals are, but also the number of people concerned about pet nutrition – and about how many animals actually get sick because of their poor diet.
"When you buy a bag of food off the shelf, you really have no idea when it was made or how long it has been sitting on the shelf – it could be months or even years. Would you want something like that? In many cases the food lacks nutritional value and flavor – it's just filler for your pets," Schweiterman said. "When I heard about Pet Wants and their commitment to fresh, healthy food, I knew it was a product I wanted to able to offer my clients and my community."
In addition to being made fresh monthly, Pet Wants only sources the best salmon, chicken, lamb, brown rice and other ingredients available. There's no sugar added, no fillers and no animal by-products. And, since Pet Wants never uses corn, wheat, soy or dyes, the food is a great fit for pets with allergies.
Schwieterman opened Pet Wants Powell with the support of his wife Linda and their three children, Ryan, Megan and Mackenzie. The family also has a Golden Retriever named Sydney and a cat named Bennie.
Pet Wants Powell is a franchise of the Pet Wants Franchising System. Pet Wants originally launched in Cincinnati in 2010. Owned by Michele Hobbs, the business was built to provide proprietary crafted, fresh, slow-cooked, all-natural pet food delivered to customers through a retail store and a convenient home-delivery service. Hobbs, now the company founder, turned the business into a franchise in 2015 with the help of Franchise Funding Group, an investment and franchise-development company designed to help entrepreneurs scale their companies nationally as franchise systems.
For additional information about Pet Wants Powell, call (614)582-8916, email TSchwieterman(at)PetWants(dot)com or visit http://www.petwantspowell.com/.
About Pet Wants: Pet Wants was started by Michele Hobbs out of love for her pets and frustration. Veterinarians were unable to help relieve her dog's painful skin allergies. After doing much research, Michele discovered the national dog food brand she trusted was not fresh, not all natural, and lacked sufficient nutrition...and when pet food sits in warehouses and store shelves for months and months… it loses even more nutritional value. She was committed to developing a better solution for all dogs and cats. Their food is exclusively crafted… fresh, healthy, slow-cooked and all natural with no sugar added, no fillers and no animal by-products. They source only the best salmon, chicken, lamb, brown rice, and other ingredients. Fresh ingredients make for better food… and better health for pets. And since they never use corn, wheat, soy or dyes, the common pet health problems associated with these ingredients are no longer worries. Their fresh food is conveniently delivered to the customer within weeks of production, not months. Roughly half of Pet Wants products are sold through their store and half through their convenient, home-delivery program. You can learn more at http://www.PetWants.com.